The Ashley era at Newcastle United has seen the relationship between the board and the fans deteriorate, leaving many of us to feel alienated by our own club.
Respected figures like Kevin Keegan, Alan Shearer and Jonas Gutierrez have been tossed aside and dismissed, and one thing our new owners could do to immediately gain the fans approval would be to rightfully honour some of the heroic icons from the past.
Despite having their own issues, one thing that Arsenal have done well in recent years is commemorate their past heroes with statues outside the Emirates Stadium. Historic greats like Ken Friar and Herbet Chapman stand alongside modern superstars like Thierry Henry to provide an education for young Gunners while they enter their 21st century stadium.
This is an idea Staveley & Co could replicate and develop further, to help inspire younger generations of Magpies on their way to the ground who are potentially unaware of our own fantastic history.
While older folk and hardcore Toon nuts will know of those featured on the list, these five selected to join Wor Jackie, Sir Bobby, and Shearer himself may sound unfamiliar to some of the Toon Army's younger generation of today.
1. Stan Seymour
Born in County Durham, Seymour is one of the most important people in our club's history. After a successful playing career, winning the league and FA Cup in the 1920s, he later managed our club to another cup success before going on to become chairman, rightly earning him the title 'Mr Newcastle' for being the only man to hold all three roles at St James' Park.
Jackie Milburn once said: "There is a great debt owed by Newcastle United to Stan Seymour for all of his services to the club". Seymour is a true club legend who deserves a statue – or even a stand – dedicated to him in his honour.
2. Hughie Gallacher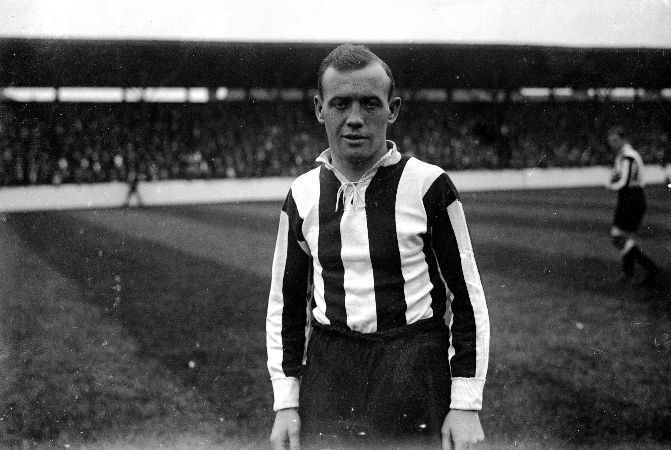 Scottish goal-machine Gallacher is the most prolific forward in our club's history and captained us to our most recent league triumph in 1926-27.
Rivals Sunderland were contenders for the league that season and were defeated 1-0 at St James' Park thanks to a Gallacher strike in front of a record 67,211 crowd. He left us to join Chelsea three years later having scored 143 goals in 174 games in a black-and-white shirt – with a strike conversion rate of 82%.
3. Joe Harvey
There is a plaque in memory of Harvey outside St James' Park, but for his services to our club we think he deserves more. He is our club's longest serving captain and manager, and is another man who won trophies for us both on the pitch and on the touchline.
A sergeant in WWII, he helped transform the club's fortunes after the war with his leadership qualities, captaining us to three FA Cups in the 1950s when just 10 years earlier we were on the verge of the third division in what was Newcastle United's own darkest hour. His stint as manager saw him lift the Inter Cities Fairs cup in 1969, making him still to this day the last Toon boss to win a major honour.
4. Frank Watt
Referred to as the first 'unofficial' manager of Newcastle, Watt was club secretary for 40 years between 1895 and 1935. Football managers as we know it weren't a thing in the late 19th and early 20th century, and clubs were run by a committee which was chaired by the club's secretary.
During Watt's tenure-ship, he led us through the most successful period in our club's history, winning four league titles and three FA Cups. He actually signed three people on this list, Lawrence, Gallacher and 'Mr Newcastle' Stan Seymour, which demonstrates just how much of an impact he had on the history of our club. If anybody deserves recognition for his achievements representing the Toon, it's Frank Watt.
5. Jimmy Lawrence
Our record appearance holder played 496 times between the sticks for us in the early 20th century, meaning he had a pivotal role in the three league triumphs in the 1900s. Lawrence represented us until the age of 43, appearing in five FA cup finals, being victorious in 1910.
A bizarre fact is that he thought he was born in 1885, and used this date when signing for the club in 1904. Research since has proved he was born six years earlier, which also makes him our oldest ever player too. These two records are unlikely to be beaten any time soon, which further adds to his legendary status at our club.
(Fancy writing for us? Get in touch at NUFCblogsubmissions@gmail.com & we'll get back to you!)