After a season away, we've decided to bring back our 'Opposition Opinion' feature for the 2020/21 season, which sees us gain the perspective of opposition fans and an insight from the other side before each game.
This week, we've been chatting to Hammers fan Scott Johnson (@scottiej24). Here's what he had to say ahead of Saturday night's 8pm kick off at the London Stadium:
Q1 – To start off, what short of shape do you feel West Ham are in coming into this one? Interested to know what sort of summer you've had, the feeling around the club and general mood of fans…
"Well before last week, I would have said the feeling was pretty good! Even though we hadn't strengthened in the summer we finished last season in good form and there was a lot of hope that our squad could gel together and really perform, and friendlies were going OK.

"Unfortunately we're now reeling from the surprise sale of Diangana who had really put himself in the fold as a key player, and it has driven a wedge between the board and the players/fans.

"Then we went and conceded 5 at home to Bournemouth, so it's really turned the summer on its head!"
Q2 – Give us your best player, your 'one to watch' and your weak link..
"Our best player is clearly Declan Rice. He's still tipped to join Chelsea before the end of the window, but whilst he's at the club he's definitely the best player we have, he really anchors our side.

"One to watch is probably Soucek. A lot of box to box midfielders can get lost in the game as it moves back and forward, but he really imposes himself at both ends. If he's on form he could decide matches.

"Weak link? Definitely our full backs, and in particular Aaron Cresswell. The left back was a revelation when he joined from Ipswich, but since a serious injury he's struggled for form. He's poor in the tackle, and even though he had more final third touches than any other West Ham player last season he registered no assists. So we're not sure what he offers anymore…"
Q3 – As a team, what are the strengths and weaknesses of this West Ham side?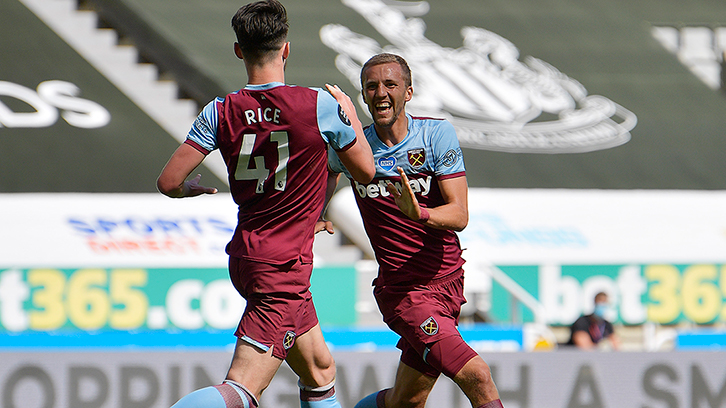 "As highlighted by the previous question, our full backs are not really up to standard. Cresswell and Masuaku have given very little for us to be confident about their defensive ability, Fredericks is a pace merchant and Ben Johnson is still developing. When we come up against pacey wingers, I really have to worry.

"Our strength now comes in the middle. Rice and Soucek are very capable players in holding the structure of the side and also now contributing in an attacking manner.

"Fornals, although inconsistent, is definitely a talent and can provide a lot of danger in the No.10 role as well. So in the middle of the park is probably our strength."
Q4 – What's the West Ham starting XI and formation Moyes is likely to go with on Saturday?
"Moyes is unlikely to go too crazy, and depending on who is available will go with a 4-2-3-1 or 4-1-4-1 as he focuses on central solidity.

"We'll probably see Fabianski in goal, protected by a central back two of Ogbonna and Diop. At full back I'd like to see Masuaku and Johnson, but it could be Cresswell and Fredericks given the lack of a star player in those positions.

"Rice will take up the No.6 role, alongside either Soucek (if he gets the COVID all clear) or Noble, probably playing behind Fornals.

"On the right wing Bowen will surely start, but the left wing could be taken by Antonio, Anderson or Lanzini as no-one has really nailed that position in pre-season after the sale of Diangana.

"Haller and Antonio remain our only striking options, and despite Antonio's success post-restart Moyes wants to try and get the best out of Haller. His first season wasn't bad, especially by recent Hammers strikers measures, but he needs to show more of his Bundesliga form to hold onto that position."
Q5 – What do you make of this Newcastle side and which players do you see as the strengths and weaknesses in our team?
"Newcastle were a hard side to judge last season, they outperformed most statistical predictors and struggled to excite a lot, but they got results.

"They've also really strengthened in recent days and look to have added genuine Premier League quality, which could make them a much strong team. Saint-Maxim is likely to give our full backs a real opening day work out, and if Wilson plays he always seems to score against us, so I'm very worried about that!

"Newcastle don't always keep it together in the middle though, and if we can stifle Shelvey's passing then we could get a lot of joy out of the game that way."

"As for player weaknesses, I do think Yedlin has a tendency to wander and can be caught out of position at right back despite his pace, but I'm not sure if we're strong enough on our left to really take advantage of that right now."
Q6 – Tough to say on the first weekend of the season, but what sort of game do you think it'll be and how do you see it panning out? Give us a prediction..
"I think Moyes is going to do what he can to try and keep a hold of the game and, given that I can't see Bruce wanting an open game either, I think we're going to see a lot of both teams trying to get their foot on the ball and minimise the chance for mistakes.

"However West Ham have an awful schedule after this game, so points are pretty vital if we don't want to be on 0 points after 8 games."

"I think the game is likely to end in a draw, probably 1-1 or 2-2, although if one side can control the last 20 minutes of the game they will take it!"
Q7 – Where do you see our two sides finishing in the 2020/21 table and which three teams are you backing to go down?
"The last week has changed my perspective on this completely, and I would now be extremely surprised if the Hammers managed to avoid a relegation battle.

"Not only have we failed to strengthen on last years side, we've managed to stall all of our momentum and killed the spirit in the side. So that's just not good at all!

"Newcastle are doing exactly the opposite, and I think they'll have a semi-successful season with a solid mid-table finish as long as Bruce can continue the belief and consistency in the side."
Q8 – Hypothetical of course, but if you could sign any one player from NUFC, who would you like to see David Moyes go for?
"Well given that I was after the Hammers signing Fraser and Lewis, I'd love them!

"I would love to add Saint-Maxim as a genuine left wing option given Anderson's stuttering form but given we need centre-back cover (unless we sign Tarkowski) I'd probably go for Schaar or Lascelles."
Q9 – Jarrod Bowen was a player Steve Bruce was heavily backed to sign in January, but you beat us to him. What's he been liked so far?
"Bowen has been a star for the Hammers, adding real drive off of the right wing given the inconsistencies and injury issues that Yarmolenko has suffered during his time at the club.

"His signing in January was a genuine step in the right direction for the club and hopefully a sign of where we're looking for future transfers, because he's not just good enough but a hard worker and always after more of the ball."
Q10 – Finally, if you had our two squads to choose from and were asked to pick the best possible side, what would you starting 11 be?
"Ooooh, these are always interesting, and I'm sure I'm going to rile a lot of people up from either fanbase with my picks.

"In goal, I have to pick Fabianski. He's been a lifesaver in recent years, however I know Newcastle fans hold Dubravka in high regard as well. In front of him I will go with Ogbonna and Lascelles at left and right centre-back, with Manquillo on the right and Lewis on the left, although Ritchie could go in that spot as well.

"In midfield I'm sticking with Rice as my number 6 with Soucek as the box to box option in my classic 4-2-3-1 formation. Ahead of them in the number 10 role I would put Almiron, who I think has the ability to play for real top teams in the right system and can certainly act as the creator in chief for this side. On the right wing I would put Bowen, with Saint-Maxim on the left, offering pace and service into the front man.

"For the front man I think that despite the clubs both spending huge fees on strikers last season, it's got to be the new number nine for Newcastle that gets the nod. Callum Wilson is a genuine handful for any defence and I think one of the best value buys this window, especially for a homegrown player."
Follow us on Twitter (@NUFCBlogcouk) and on Facebook HERE