An embarrassing display at St James' Park, with Newcastle making Brighton look like Barcelona in a 0-3 defeat in our opening home game of 2020/21.
Here's an assessment of each player's performance along with my mark out of 10:
Starting 11:
Darlow – 5 – Hard to blame the keeper when his defensive unit was so diabolical. Made a decent save to deny Lamptey down low and his handling was decent. Still, got nowhere near their three goals his distribution wasn't great.
Manquillo – 4.5 – Despite being one of more consistent players, he was very ordinary today. They got less joy down his side, with Lamptey running riot down their right, but Solly March got the better of him and he failed to give us that outlet in attack as he did at West Ham.
Lascelles – 3 – A terrible performance for the skipper who certainly didn't lead by example. He was slow to get back for the second goal and at blame for the third too, giving Connolly far too much time and space to craft a shot into the far corner. A clumsy yellow early on didn't help, but he was clumsy and sluggish all afternoon.
Fernandez – 4 – Caught out constantly and gave the Brighton attackers far too much space, often backing off where he needed to get tight. Had no answer for the movement of Neal Maupay and the away side could've easily scored more than three due to the massive gaps in the defence.
Lewis – 4 – Not the home debut he would've hoped for as he was torn to shreds by Lamptey and Trossard in the first half – that said, he was given next to no help from Saint-Maximin early on. Wasn't as disastrous in the second half and would've been glad to see Lamptey go off on the hour mark, however he struggled at both ends here.
Hendrick – 5 – Hard to live up to last week's dream debut. Largely ineffective going forward but solidified the left side when he swapped with Saint-Maximin and was considerably better than Shelvey when he slotted in central midfield. Still careless with the ball at times – like many of his teammates.
Hayden – 4 – A surprisingly slow and passive performance as we were completely overran in midfield. Spent a large majority of the game wanting too much time on the ball and aimlessly chasing blue shirts while we struggled for possession.
Shelvey – 3 – One of those games that happens far too often for a player of his ability. Careless in possession, caught out on the ball in bad areas and floated in far too many crosses / set pieces straight into Ryan's gloves. Received a pointless yellow card for hacking down Tariq Lamptey early on and spent the rest of the game treading water.
Saint-Maximin – 3 – Arguably his worst game in a Newcastle shirt. Needlessly gave away the penalty and never really tracked back, leaving Jamal Lewis to be destroyed by Trossard and Lamptey. He created next to nothing going forward before hobbling off after 30 minutes. He's a key player for us, but his limitations defensively in the new system were exposed badly here.
Carroll – 3 – Totally ineffective before being hooked at half time. Gave away possession too often, with it rarely sticking to the big man when we went long. Even if he did bring the ball down on his chest, the pass or piece of link up play that followed was sloppy and aimless all too often. Also felt he didn't get anywhere near the box and didn't look mobile enough to do so on the odd occasion we got into crossing positions.
Wilson – 5 – I have to sympathise with Wilson this afternoon. Spent the entire first half chasing the ball and trying to create chances for himself via some good runs in behind. The second half was much the same, but he missed a chance that he should be really scoring, which cannot be overlooked.
SUBS: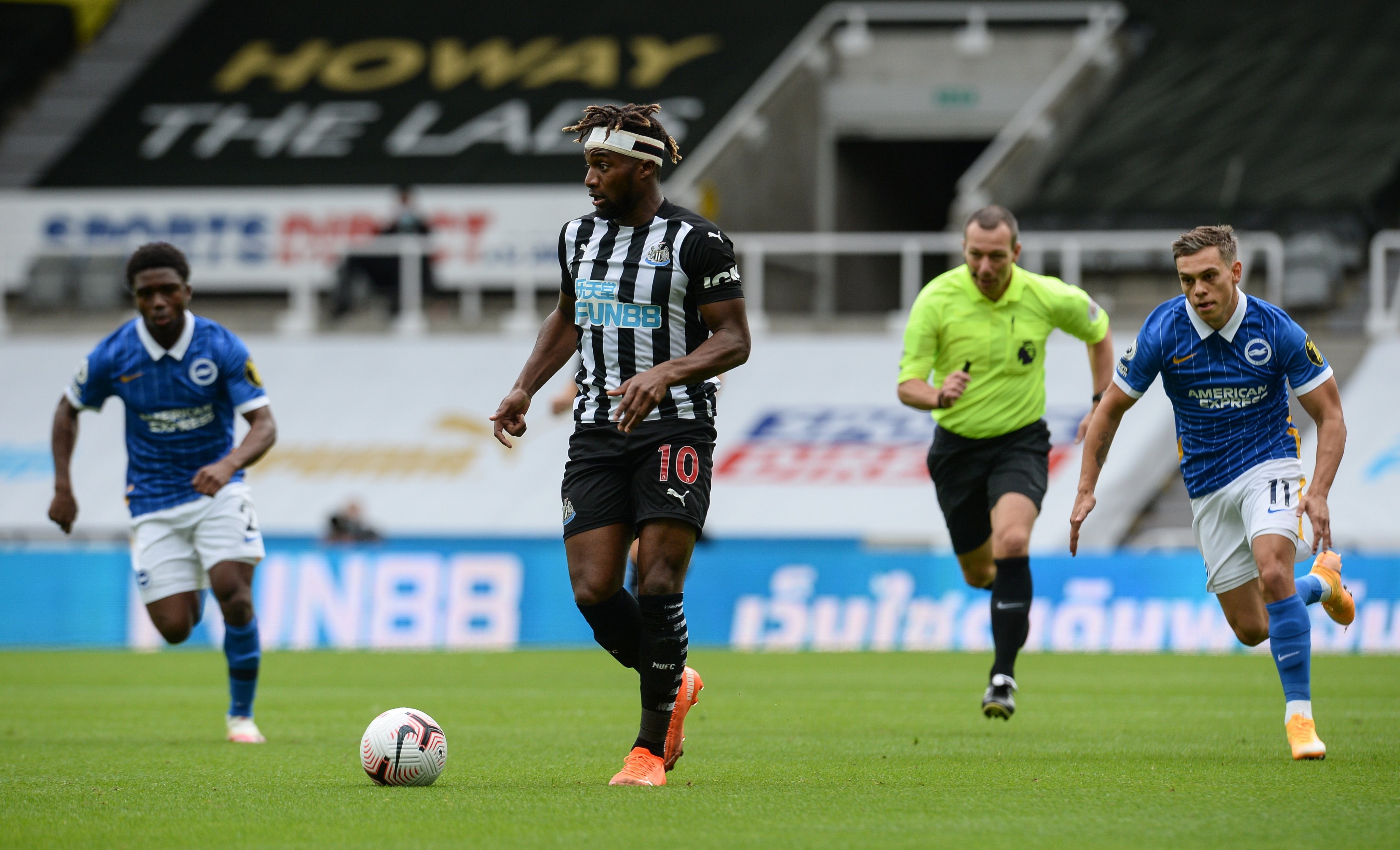 Fraser – 5.5 – Brought on 30 minutes in and had the responsibility of helping a team that was in complete disrepute. Certainly looked positive and alert, putting the odd good ball into the box and pressing more than most in black and white. As the game went on, he faded away as did the team as a whole.
Almiron – 6* – Probably the only player in black and white who looked half decent today. Should've had his third assist in as many games when he found Wilson for *that* chance. His energy never wavers and constantly tried to make things happen. Has to start against Tottenham next weekend.
Joelinton – 4 – Largely invisible aside from the odd one-two played with Almiron. We were awful and the Brazilian wasn't really able to make any impact to give us that lift we badly needed.
Follow us on Twitter (@NUFCBlogcouk) and on Facebook HERE