A game we could've lost by four or five on another day, yet we've somehow come away with an unlikely point via Karl Darlow, the woodwork and another awful VAR decision.
Here's our assessment of each player's performance along with a mark out of 10:
Starting 11:
Darlow – 10 – Without his heroics today the headlined would read so differently and we'd be talking about a 4 or 5-0 hammering. He made a stunning double save early on, stopped Kane's point-blank header and made TEN stops in total – the most an English goalkeeper has made in a single game for three years. We've got him to thank today!
Manquillo – 6 – We were all at sea defensively at times, but he did OK for me. Forced Son to come inside and few attacks came down his side. Not spectacular, but probably our best defender today for me.
Hayden – 5 – Didn't look comfortable at all in the first half, with him struggling to fit in as a right-sided centre back in this five-man defence. Gave Kane too much time to put that ball across the boss for their goal and seemed slow to react at times. A solid second half showing after being moved to midfield, however.
Lascelles – 5 – Another who struggled early on as we looked all at sea defensively in the first 45. Lost Dier from a corner the Spurs CB should've scored from and a few too many of his 'clearances' were unconvincing. He had a better second half, getting tighter to Kane and making a few strong blocks, but he at the centre of a poor back five that didn't protect Darlow well enough early on. Thankfully, we weren't punished!
Fernandez – 5 – Didn't get close to Spurs attackers in the first 45 and arrived too late to intercept a cross that was tapped in by Lucas to give them a lead. Another who was better in the second half, but it was hardly convincing stuff from the usually reliable Argentine. If it wasn't for our slightly more stable second half then all three centre-backs would've got 3's and 4's.
Ritchie – 4 – Completely switched off at the back post to allow Lucas to ghost in and give the hosts a 1-0 lead. Was sloppy in possession and, aside from a decent set piece delivery in the first half, offered very little before a shoulder injury forced him off on the hour mark.
Almiron – 4 –  Deservedly brought back into the side after a trio of assists and a goal in 201 minutes of football before this, however he never looked at it here. Played down the right-hand side – his least comfortable position – and had too many loose passes or careless touches to gift possession back to Spurs. Energetic as ever, but very sloppy by the high standards he'd set in our opening few games of the season.
Hendrick – 5 – Didn't really get going in this one and was failed to make a great deal of an impact at either end of the pitch. Looked more mobile and energetic than his midfield partner (Shelvey!) but didn't always get close enough to Spurs midfielders and dragged a half chance well wide in the second half.
Shelvey – 4 – Poor deliveries from corners and looked leggy in midfield, being slow to react and late into tackles – hence why he was booked (again) in the first half for a mistimed tackle. In games like this where we sit off and have little of the ball, he doesn't offer enough to this NUFC side.
Joelinton – 7 – Our best outfield player for me. He looked a little more confident, did things quicker, made a few driving runs forward with the ball and linked up nicely on the rare occasion we had possession. Was our main outlet in the second half, winning headers, drawing fouls and even bursting past his man on a few occasions, with him taking out two and flashing a dangerous ball across the box on one occasion. Was booked for pulling Lucas back but was the only NUFC player causing issues at the other end, as it was his clever cut-back that helped create one of our only shots of the game from Hendrick. The only outfield player who can come away from this one with an ounce of credit for me – not that it was hard to stand out amongst so much dross.
Wilson – 6 – Stepped up and kept a calm head to slot home a 95th minute penalty and hand us an unlikely point! That said, he was extremely isolated and left with a thankless task on his own up top for 99% of this one. On the 70-minute mark I read he'd only had 11 touches – highlighting just how much we struggled to bring our biggest attacking threat and £20m man into the game. Anonymous for the vast majority of this one, but his spot kick proved pivotal in the end!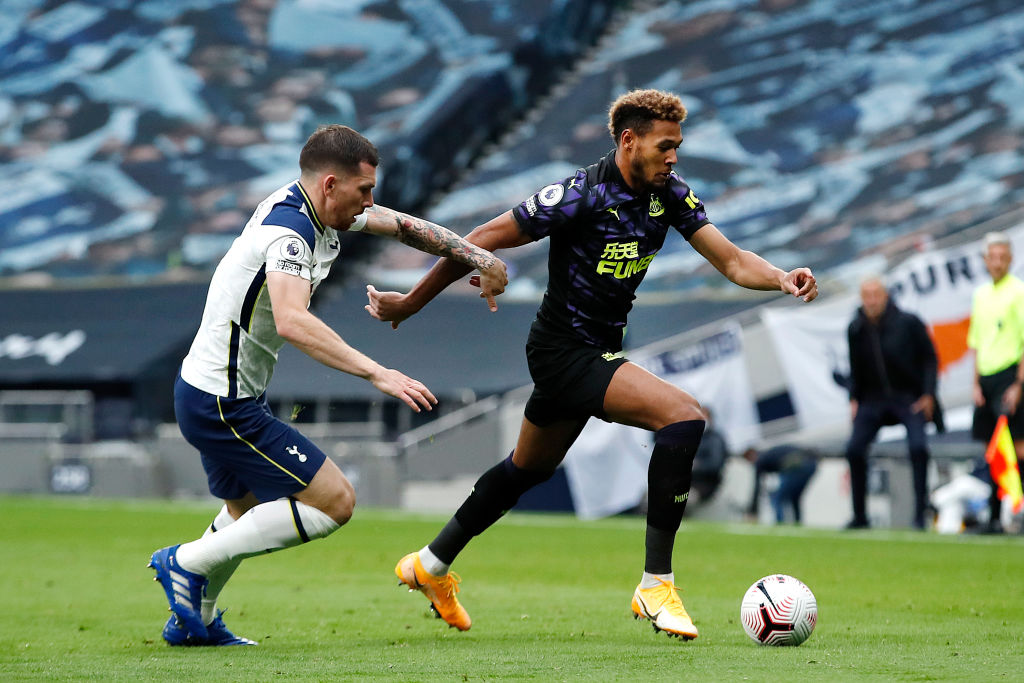 SUBS:
Lewis – 6 – Replaced the injured Ritchie around the hour mark and slotted in at left-back. Gave us an outlet down the left and linked up nicely with Joelinton once or twice. Noticeably more mobile than Ritchie, who didn't quite have the pace to keep up at times.
Murphy – 5 – Unlucky not to start after his superb display in midweek, but eventually came on with 20 minutes to play in Hendrick's place. Got into some good positions but sometimes wanted too much time or picked the wrong pass. Did play one decent ball in behind for Carroll, but he looked a little rusty on a rare appearance at Premier League level for the winger.
Andy Carroll – 6 – It wasn't pretty, but his presence and aerial ability made a difference late on and ultimately helped win us the controversial late penalty. Dominant in the air and looked fired up to make an impact in the last 15 minutes.
Follow us on Twitter (@NUFCBlogcouk) and on Facebook HERE