Well, it was an absolutely abysmal watch and we could've easily been beaten by four or five – yet we have somehow come away with a point via a Callum Wilson penalty gifted to us via VAR!
It's a good result on paper, but this draw can't paper over the cracks in a game where our first shot on target for 180 minutes arrived in the 95th minute.
If truth be told, we were woeful – looking lost, lethargic and lacking in energy, quality or organisation in all areas.
It would've been a cricket score if it wasn't for Karl Darlow – who has single handedly kept our slim hopes alive of getting the most unlikely of points, making TEN saves in a superb man of the match display.
Bruce brought Almiron, Joelinton and Ritchie into the side for Saint-Maximin (ankle), Lewis and Carroll, with a 5-4-1 formation seeing Hayden slot into centre-back and Wilson play up top on his own with Joelinton down the left, Almiron down the right and Hendrick partnering Shelvey in midfield.
Spurs immediately started on the front foot and would've been 1-0 up within five minutes if it wasn't for Darlow. Lo Celso's free kick that looked destined for the top corner was acrobatically clawed off the line but into the path of Kane – who saw an expected tap in blocked brilliantly by the stand-in stopper.
We then had a half chance a few moments later as Manquillo's drilled cross was almost flicked on goal by fox in the box Wilson, however we relied on another point-blank Darlow save just moments later, with him palming away a close-range header that Kane should have buried.
10 minutes in and we would've been a few goals down if it wasn't for a stunning start by our man between the sticks. We'd had just 16% of the ball and had barely strung three passes together, looking disjointed and lost at both ends of the pitch early on.
Ominous stuff and early signs that Bruce hadn't set us up well…again. And we were soon punished.
Shelvey's attempt to put Wilson in behind was cut out and Spurs countered. Hayden was unable to stop Kane flashing a ball across the box and it evaded everyone but Lucas, who was allowed to tap in at the back post after Ritchie
The goal Spurs deserved and one that was coming based on our pathetic start to the game.
We sat off and were second to react every time, showing little interest in getting forward and even less desire to defend in and around our own box – which was damning when Bruce's passive and negative set up was presumably done to keep it tight early on.
We got into the break at 1-0 but it could've honestly have been four or five if it wasn't for poor finishing, the woodwork and some brilliant goalkeeping by Karl Darlow, with Son hitting the post and bar.
Bruce had us set up as sitting ducks and it was only going to get worse if nothing changed. Bizarrely, the formation didn't change, but we showed more intent, kept the ball better and had 62% of the ball in the opening 15 minutes of the second half.
Joelinton looked more confident and enjoyed a few promising bursts forward with the ball, Ritchie and Manquillo had pushed up a little and Hendrick dragged a shot wide.
Signs of improvement, yet the clearer openings were still falling at the other ends for Spurs, with Darlow continuing to be the only goalkeeper being tested.
The fact Tottenham were so passive in the second half meant we should've been pushing for the equaliser and battering the door down, yet nothing really changed. Yes we had more of the ball in the second 45, but did we ever look like scoring? No – and Bruce's plan B late on was simply hoofball to big Andy Carroll.
We started to show some urgency when the fourth official indicated there'd be FIVE minutes of stoppage time. I had no faith in a late equaliser and it never looked likely, yet a quite incredible VAR decision meant an Carroll header that hit Eric Dier's arm just half a yard away from him gave us a penalty in the 95th minute.
Callum Wilson took the ball and stepped up. He'd had just ELEVEN touches all game, yet had the chance to earn us a point with the last kick of the game.
He stepped up and did the rest, squeezing it past Lloris to give us the most unlikely of results in what was an abysmal performance.
Delighted to get the point in a game that looked dead in the water for most of the afternoon, however this can't paper over the crack. We were shocking and would've lost 4 or 5-0 if it wasn't for Darlow's heroics and another bit of shambolic officiating via VAR.
A beaming Mike Ashley applauded the players off at the full-time whistle, but he can't have been impressed.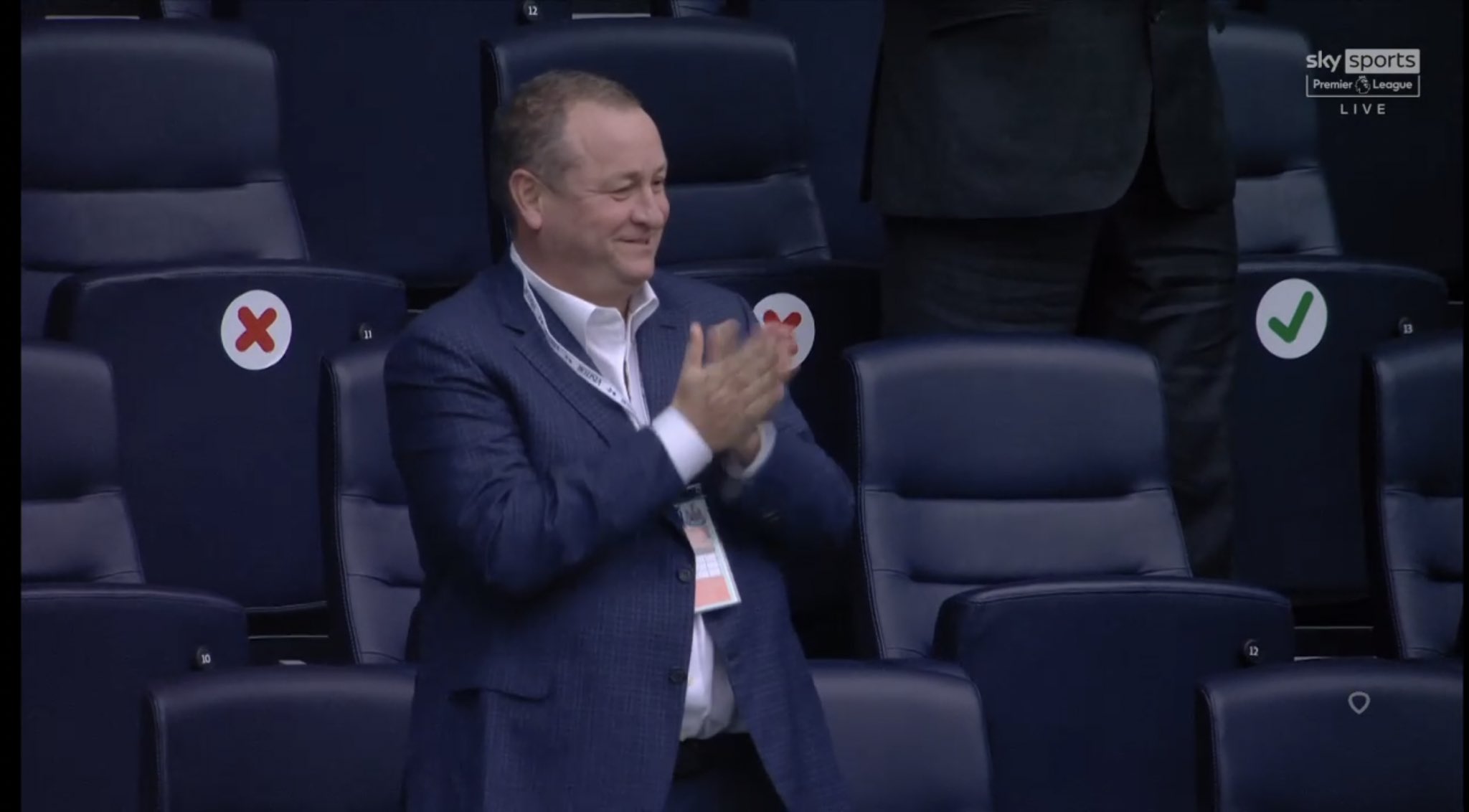 Pretty much all the credit must go to Darlow – the first English keeper to make 10 saves in one game for 3 years – but Joelinton was for me our best outfield player, looking more confident, more mobile and more capable of carrying the ball forward from the left-hand side.
Manquillo did OK at right wing-back and we settled defensively in the second half, however the result can't paper over the cracks in what was generally an awful performance.
Next up we face Newport County away in the last 16 of the Carabao Cup in midweek, followed by the visit of Burnley to St James' Park next Saturday night.
A good point, but things need to change – with 3 shots on target and 3 goals in 3 Premier League games being a stat that will only save Bruce's bacon for so long!
Follow us on Twitter (@NUFCBlogcouk) and on Facebook HERE