We have played five matches this season and three of them have been awful to watch.
Okay, the West Ham and Morecambe performances were encouraging, but they seem to be exceptions rather than the norm. We are now in our fourth season in the Premier League since our last promotion and we are still setting up as a newly-promoted team would. 
As many on social media have alluded to, it is acceptable to defend, if you are limiting shots. However, on Sunday, Tottenham managed to have 15 shots inside our penalty box. Throughout the entire match, their expected goals (xG) for was a huge 3.19. Without Karl Darlow and Spurs' poor finishing, they would have been out of sight before the controversial handball decision.
This weekend, no team had a higher xG conceded than ourselves. The organisation and rigid defensive style that we became used to seeing under Rafa Benitez has gone. Bruce will claim to be playing the same system, but it really is chalk and cheese. Tottenham broke through at will and it was only Jose Mourinho's own defensive tendencies that prevented that trend continuing into the second half.
The biggest shift in style under Bruce can be shown by the passes per defensive action (PPDA) metric. This measures how much a team presses, with a low number showing a team that presses a lot, while a high number shows a more passive team. During Benitez's final season, we averaged 13.99 PPDA, with three Premier League teams registering a higher number.
We weren't a pressing team under Benitez, but there was an awareness that we needed to win the ball back in key areas. Last season, we averaged 19 PPDA, which was by far the highest in the Premier League. The closest team to us was Sheffield United, who averaged 13.71 PPDA.
This is a big worry, as the more an opposition team passes the ball, the more likely it is that they will create a positive opening. There were countless examples against Tottenham, where there wasn't a willingness to put a tackle in, even when they were within shooting distance. In the game, we averaged 35.7 PPDA. There will be few more passive performances this season and if I was a betting man, I'd say the majority will be delivered by us. 
To provide context, Brighton (6.64 PPDA), Leicester City (25.08 PPDA) and West Brom (40.82 PPDA) all played top six teams this weekend. These are all showing different approaches. Brighton pressed high and had a lot of success winning the ball back, but it is a style that they have been coached in for over a year. 
Leicester delivered a Benitez-like performance, as they started with a back five, with compact spacing of the lines, but they were willing to commit men on the counter attack. With the pace of Harvey Barnes and Jamie Vardy, coupled with Manchester City's kamikaze style, it was very effective. 
Meanwhile, West Brom will be the most comparable to our own performance, but they did race into 3-0 lead. Therefore, their passive approach of putting everyone behind the ball is more understandable. Chelsea only managed an equaliser very late on and they had an xG conceded of 2.36, lower than us against Spurs.
What the discussions of the teams above highlights most of all is that every other side seems to have a plan. You may disagree with it and they may not be successful, but you can see what they are trying to do. 
With us, it is very difficult to even rationalise what is happening on the pitch. Bruce sets up the team deep, but there is still acres of space for the opposition team to move into. There are a lot of players behind the ball, but no willingness to win the ball back.
When we do win the ball back, Callum Wilson is isolated and there are a lack of willing runners to support him. We let the game of football happen to us, without any interest in trying to force a positive outcome.
In our last two fixtures, our only shot on target was a Callum Wilson penalty. We are averaging 1.33 shots on target per ninety minutes. Only Sheffield United can match us for our lack of productivity in the final third. Bruce claims this has been an issue for a number of years and there is some merit to those words, but the worry is that it is trending in the wrong direction.
In 2017/18, we averaged 4.05 shots on target per ninety minutes. It fell in 2018/19 (3.58) and again last season (3.34).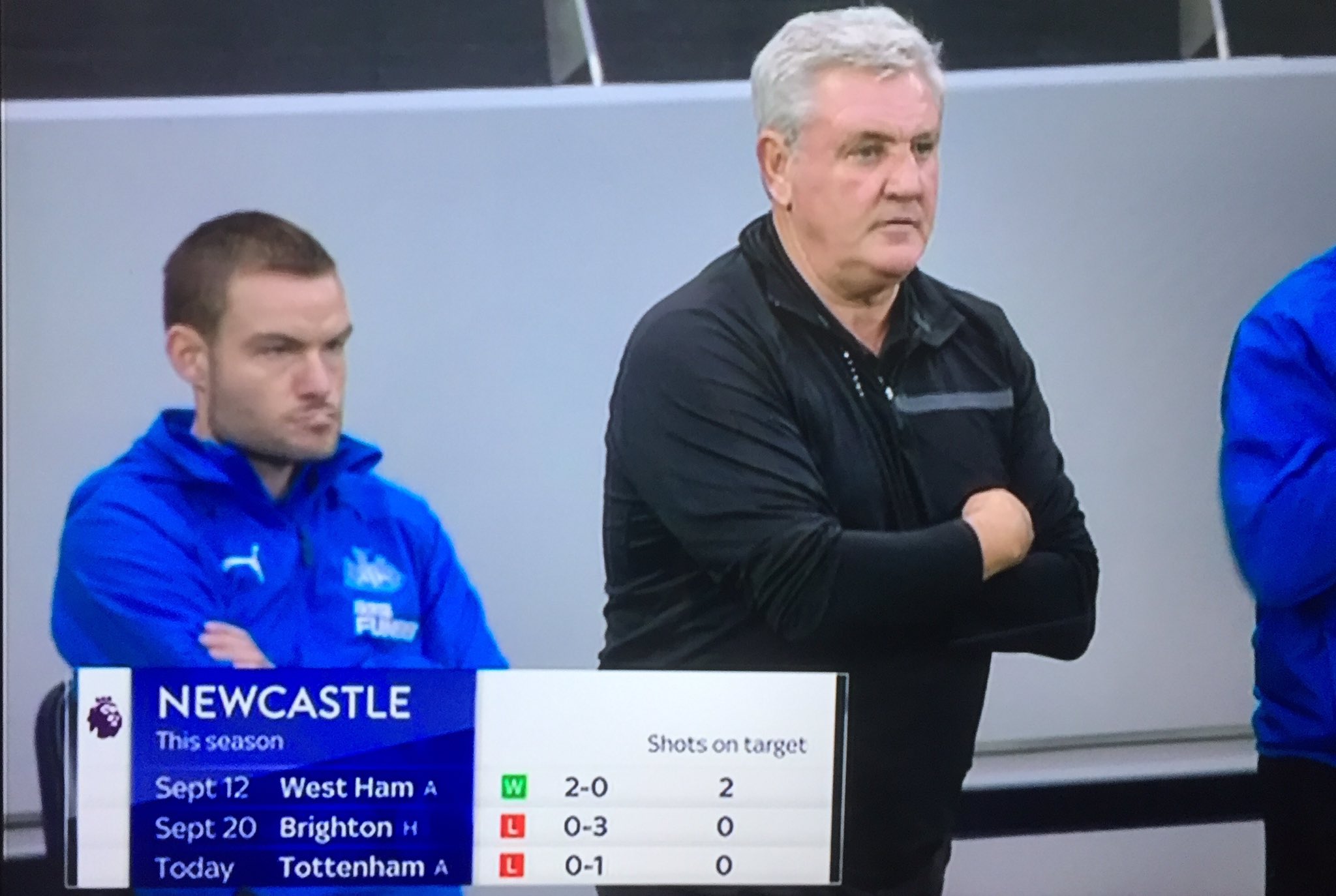 This coupled with the PPDA numbers show that we have become a more passive and less productive team under Bruce. He arrived claiming to be a coach that wants to play an attacking style. However, the numbers show that we are losing the identity that we had under Benitez of being a well organised counter-attacking team without creating a new one for ourselves. 
At Tottenham, we resorted to launching the ball to Andy Carroll and hoping for some luck. Jamie Carragher even said on commentary that our most likely route to an equaliser was to try and get a handball from a set piece. That's exactly what happened, but how bad is it that an established Premier League team has to resort to that.
We are a team without an identity. A team without a defined way of playing. This season, we have started with three different formations and the lack of clarity shows. The points on the board give Bruce apologists valid ammunition.
Football is a results game at the end of the day, but the luck won't continue forever. 
Credit: Stats taken from Understat and FB Ref (powered by Statsbomb)