It's fair to say we came away from North London on Sunday with one of the luckiest points you're likely to see all season.
We'll take it, but it was tough to watch and could've been a 4-0 hammering on another day.
With the dire performance and VAR drama in mind, we were intrigued to know what a Tottenham fan made of it all.
Here's what Spurs season-ticket holder Bill Stanton from The Hotspur blog told us after the game – he didn't hold back and hit the nail on the head with a few of his assessments!
"I don't want to sound like a bitter old Spurs fan whose coming to you here with nothing but sour grapes, but that one is so hard to take for a whole host of reason.

"I honestly reckon that ends at least 4-0 to us if your goalkeeper doesn't have the game of his life and VAR don't give that joke of a penalty.

"The decision to give handball against Dier is a farce, yet I fully expected it to be given after seeing what was deemed a 'penalty' in games gone by this season.

"It's ruining the game. How that can be deemed a deliberate handball is beyond me and I also feel the foul on Joelinton in the build up was soft, but that's made irrelevant if VAR doesn't get it wrong from the free kick that followed"

"What I will say though is we didn't come at you enough in the second half and failed to kill off a game that was there for the taking!
He then focused on Bruce's 'negative' tactics and the three players who failed to impress him yesterday: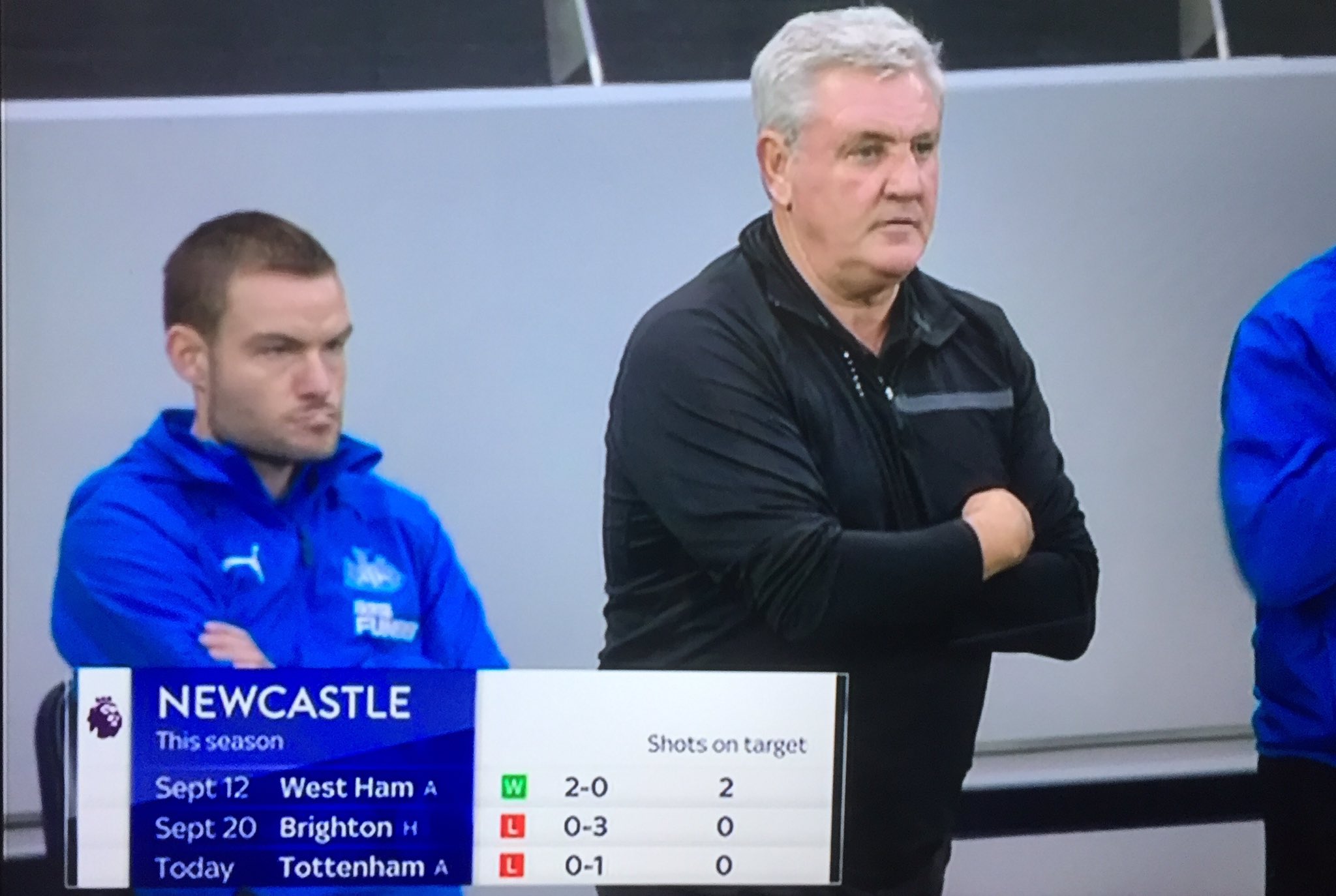 "As for Newcastle, I can't remember watching a team come to our place and look so passive and lost at both ends of the pitch.

"Steve Bruce may be a Geordie whose gradually winning over a few admirers, but it's clear he doesn't do tactics.

"I saw a stat (see picture above) saying you'd only hat two shots on target in three league games before Wilson's late penalty. That says it all yet it doesn't surprise me from what I saw.

"He set you up with a five-man defence yet you were so easy to play against and gave us so much room. If you're going to play so negatively, at least look compact!

"After seeing you sign Wilson and Fraser, I thought you'd be coming to our place and looking to get at what is a very shaky Spurs back four, but you just seemed to sit back, concede possession and invite pressure, despite having enough firepower to hurt us at the other end if Bruce had cojones to play front foot football.

"Saying that, there were some awful individual performances on your side. Almiron lost the ball just about every time he got on it and looked like a headless chicken. I saw your win over West Ham and he was a real threat in behind, but Bruce had him playing so deep and in all the wrong areas.

"Lascelles looked all at sea as well. I wanted us to sign him a year or two back, but he looked unconvincing and a shadow of the towering centre back Benitez helped him become not so long ago.

"You could also tell Ritchie was a winger playing at left-back. He has all the fight in the world and looks ready to bite the opponents head off, but I don't actually know what he REALLY offers? The way he switched off for our goal and allowed the ball to come across the box was schoolboy stuff.

"Hayden also looked like a midfielder playing in defence. I don't want to criticise him as much as the three above, but it's another odd one that Bruce is putting square pegs in round holes at the back and stifling what should be a decent attack at the other end.

"On the subject of your forwards, I feel for Callum Wilson if that's how isolated he's going to be at times this season. I swear his first kick of the game was to put that penalty away in the 97th minute! No wonder Joelinton has struggled so badly for goals or good performances if that's how Bruce sets up.
Bill then gave his thoughts on Joelinton – a player he's been very impressed by on the two occasions he's played at Spurs over the past year:
"I actually thought Joelinton was your best player, aside from Darlow of course. He seemed like the only player in your side who tried to beat a man and unsettle us, either in the air or on the deck.

"It's funny because I was at your 0-1 win at our place last August and thought he was outstanding that day, the way he held up the ball, bullied our centre-backs and scored that goal to give you all three points. Now that day you deserved it!

"I remember sitting in the pub with my mate after the game saying 'he's one to put in your fantasy team!'.

"Obviously I got it wrong on that one, but he proved that day and yesterday that there's a player in there, I just fear he'll be wasted in this side that's had all the life sucked out of it by Steve Bruce by the looks of it.

"He's a big unit, but proved yesterday that he's no slouch and can carry the ball like a winger when he wants to.

"We were actually linked with him a few years back and I watched him cause Man City all sort of bother in their Champions League match against Hoffenheim.
Finally, he gave some final thoughts on Bruce and where he expects us to end up at the end of the season based on what he's seen so far:
"I may be way off here, but with a capable group of players I'd be wanting Bruce out and someone like Eddie Howe in."

"It just feels like you're bad at both ends of the pitch.

"I've seen all your league games this season and West Ham aside, who were abysmal, you've never looked like scoring yet always look like conceding.

"A horrible mix and so frustrating for you fans when you've actually got plenty decent players!"

"Good luck for the season anyhow. I think you'll need it based on what I saw yesterday!"
Some fascinating stuff from a Spurs perspective here and more detail than I expected – especially after such a sickening result!
Good luck to them for the rest of the season and a big thanks to Bill for taking the time to chat with us.
Follow us on Twitter (@NUFCBlogcouk) and on Facebook HERE