It's been an uninspiring start to the season, yet the table tells us we're in the top 10 and our name is in the hat for tonight's Carabao Cup quarter final draw.
We won well on the opening day, have picked up a respectable four points from our opening three games and are into the last 8 of the cup after scraping past Newport last night, yet I'd argue we've played very badly in FOUR of our six games so far in all competitions.
With all of the above and more in mind, here's a few of the positives and negatives we can take from the opening exchanges of 2020/21.
The good
Our £20m man making an immediate impact
Before Project Restart began back in June, we'd seen our entire striker force (Joelinton, Carroll, Gayle and Muto) score a total of just ONE league goal all season. To say they set the bar low would be an understatement, but it says a lot about what Wilson can offer that he's already outscored them, bagging two goals in his first three Premier League appearances for the club.
His movement has been eye catching, his pace and energy impressive and he looks like a fox in the box who can easily get into double figures – especially once Fraser, Almiron and Saint-Maximin are all playing in the same side as him.
It's also been great to see Hendrick and Fraser score on their debuts and Gillespie keep back-to-back clean sheets before last night's blunder, while Lewis showed what he was capable of in a confident debut at West Ham.
2. Miguel Almiron ready up his numbers?
The Paraguayan was poor at Spurs, but he'd bagged three assists and a goal in just 201 minutes of football before that in all competitions which has improved his football wiki page stats for sure.
We know he has pace to burn and bundles of energy, but his killer pass into Fraser in that cup win over Blackburn, combined with the fact he's created more chances than any other NUFC player this season despite playing considerably less minutes, is an early sign he could be ready to add final product and improved output to his relentless industry.
Keep him as a no.10 and he could be our star man this season, for me.
3. A cup run & some improved performances from potential flops
We were awful (again!) against Newport, but it's undoubtedly a positive to see us move into the Carabao Cup quarter finals.
As bad as we were, it was good to see Jacob Murphy back up his stunning display in that 7-0 win over Morecambe with another eye-catching outing. Joelinton also came off the bench and was arguably our second best outfield performer on an otherwise drab night – something which may quietly boost their previously low confidence levels.
In between his two goals at Morecambe and bright cameo at Newport, Joelinton was our best outfield player at Spurs on Sunday, while Murphy looked like one of few NUFC players capable of making something happen last night.
Both have work to do to get into Bruce's side on a regular basis, however they'll be giving him food for thought and look capable of making an impact all of a sudden.
The bad
All the gear but no idea?
We've not got a star-studded side, but the squad Bruce inherited combined with the players he'd been able to sign since he took the job (he's had almost £100m spent on him now!) means we now have a very useful group of players on paper.
We looked a decent side in that opening day win at West Ham, but we've been shocking in FOUR of our five games since, showing a total lack of identity against both Brighton and Spurs and limped over the line vs Blackburn and Newport.
It's early days and we've not yet seen how we'll look when all of our star men and new signings are fully fit, but Bruce's non existent game plan has left the players looking so lost and all at sea at both ends of the field.
Wilson has been left far too isolated since the opening day win, we've looked woeful at the back and are yet to settle on a formation. He says it's got "nothing to do with style of play", so what's going on and what's the plan, Steve?
It's too early to judge this group of players, but it's not too early to judge Steve Bruce.
2. The stats are alarming – Our luck will only last so long!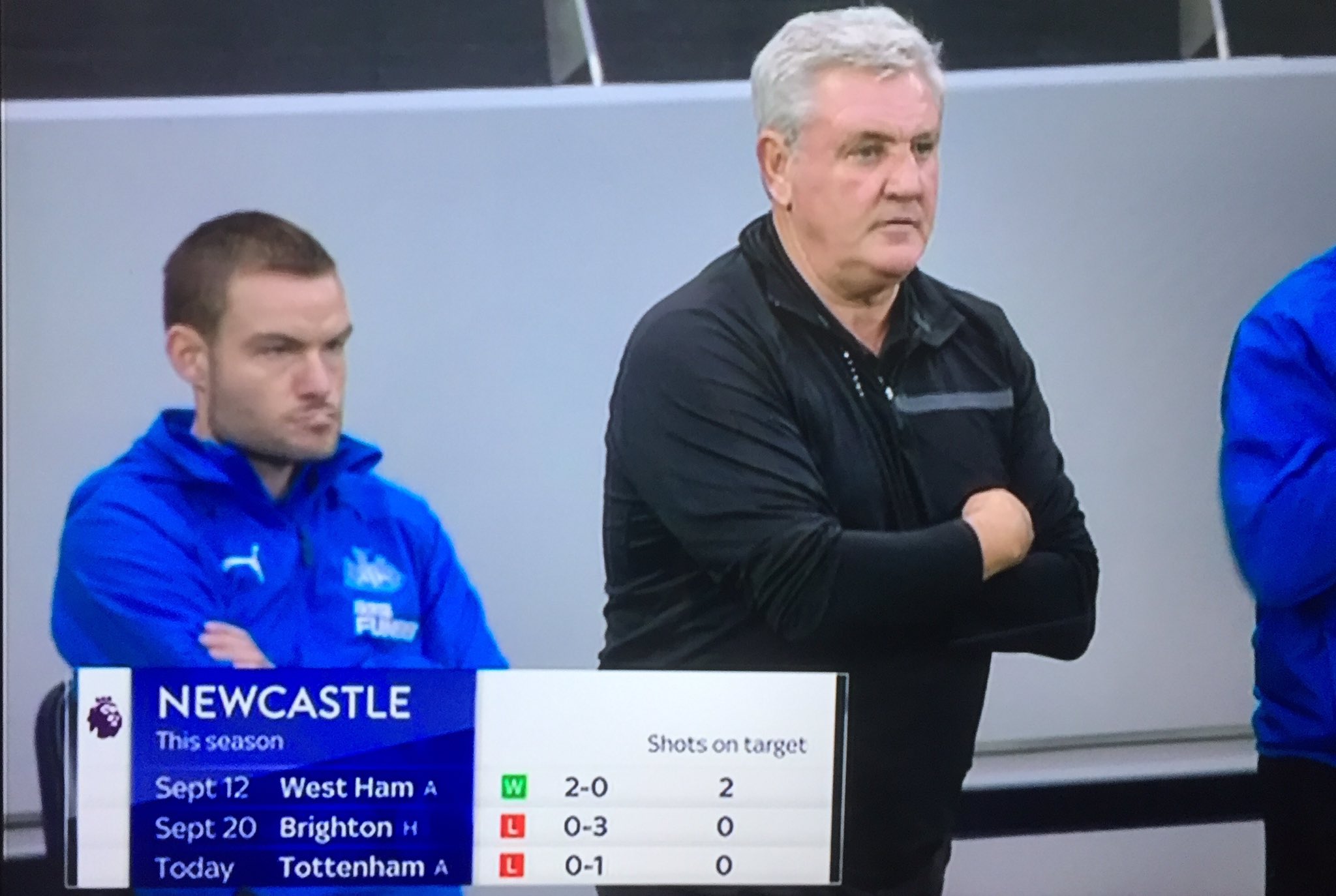 Three shots on target in three league games so far is a pretty alarming statistic, but there's several other numbers that don't bode well for us:
Shots per game: 9 (19th in PL)
Shots on target per game: 1 (20th in PL)
Possession: 43.1% (17th)
Dribbles per game: 5.7 (18th)
Pass completion: 77.3% (15th)
Shots conceded per game: 17 (2nd worst)
Some people hate to focus on stats – and I can see why when ours were awful last year yet we found a way to win and still finished 13th – but I do wonder how much longer luck can save Steve Bruce's bacon?
The draw against Spurs reminded me of that ridiculous point we picked up at Everton last season, however there'll come a time where we stop getting away with it and are punished (see Brighton game!).
If we continue to average a solitary shot on target per 90 minutes, we'll be odds on to go down on the 22Bet Kenya app!
3. Injuries mounting up & new signings unlikely?
Our injury record of late hasn't been great, meaning a busy schedule following a rushed pre-season is far from ideal.
We're just a few weeks into the new season, yet we've already seen serious injuries or knocks to Gayle (knee), Dubravka (ankle), Saint-Maximin (ankle), Fraser (groin), Ritchie (shoulder), Schar (shoulder), Clark (thigh), Lewis (eye), M Longstaff (thigh) Dummett (hamstring), Krafth (hip).
As a result, you'd like to see us strengthen a few areas of the field where we're either worryingly short on numbers and/or quality, yet I'm not all that convinced we'll see anyone else sign.
We have several domestic and overseas loan slots available to us, giving us a cheap route to recruitment if Bruce's budget has been used up, however he's insisted in recent interviews that some will have to leave if new signings are to arrive – and we don't seem to be finding any takers for Yedlin, Atsu, Aarons, Saivet and Lazaar.
With the window having less than a week left to run, we could be leaving ourselves short if no one else walks through the door.
Follow us on Twitter (@NUFCBlogcouk) and on Facebook HERE