Yet another pathetic attempt to win a game of football from Steve Bruce's Newcastle United, with us hugely fortunate to lose by just two goals against a wasteful Chelsea who should've scored five or six.
In the end, it was a Federico Fernandez own goal and second half strike from Tammy Abraham that did the damage, yet it never felt for a moment like we were in the game, with us sitting deep throughout, failing to commit bodies forward or throw a glove on Frank Lampard's in-form side at either end of the pitch.
The least I expected was a response from that abysmal display at Southampton, yet what was served up was just as bad. Chelsea were good – but we were so bad they should've won by a cricket score without ever really breaking a sweat or getting out of 2nd gear.
Steve Bruce made FOUR changes to the side that struggled badly two weeks ago at Southampton. Callum Wilson failed a late fitness test, meaning Joelinton started up top, Hayden came in for Hendrick, Clark replaced Schar and Manquillo came back in at right wing-back – allowing Murphy to feature higher up in more of a 5-4-1.
The game kicked off and, aside from Joelinton's powerful burst infield in the first 30 seconds, it didn't take Chelsea long to force a very good stop out of who else but Karl Darlow.
After Timo Werner was slipped in down the left, his shot across goal heading for the bottom corner if it wasn't for a superb touch from the stopper to tip just wide.
That was an early warning sign, but another huge chance and big save arrived just five minutes later, with Karl Darlow stopping a point blank Tammy Abraham header from a sumptuous cross from Hakim Ziyech.
Sadly, Chelsea then got the early lead they deserved via a Mason Mount cross that was awkwardly turned into his own goal by Federico Fernandez. Awful defending on the whole from a basic short corner and a totally unconvincing attempt from the Argentine to clear his lines.
A poor goal to concede, but we can't say it wasn't coming, with us lucky to be just 0-1 down at this point.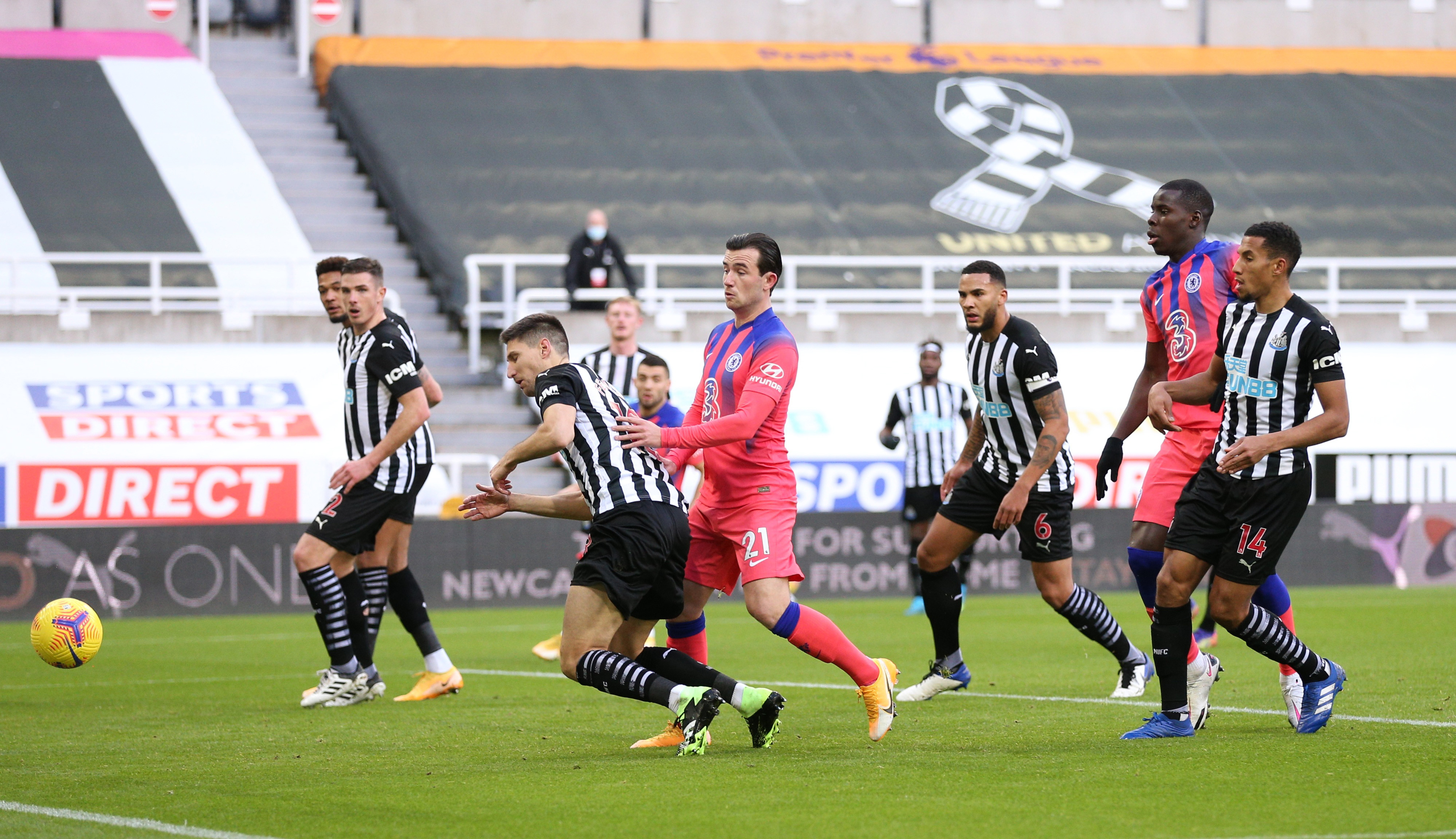 Over 80 minutes to go, yet it already felt like we had a mountain to climb, with the visitors enjoying 85% of the ball at this point. Yes, EIGHTY-five.
Plan A (if there even was one) to sit back, frustrate Chelsea and hope to nick one at the other end as we did last season was gone, but there was no sign of plan B as we remained stuck in our own half, failing to press and continuing to leave Joelinton as the only player who wasn't stuck behind the ball.
Just before the half-hour mark, Werner then missed a golden chance to make it 2-0, scuffing wide after waltzing through our five-man defence like it wasn't even there.
We'd only had SIX touches in their final third at this point, had 19% of the ball and should've been 0-3 down, only for a few decent openings to emerge for Allan Saint-Maximin – who'd been on the fringes of the game at this point.
After his clever back-heel just failed to get Jamal Lewis in on goal, he then squared up a Chelsea defender and looked in a great position to score after cutting in well, only for his shot to be blocked.
A rare moment in the opposition half and two decent openings, but quite telling that neither forced Mendy into making a save. Still, a sign that this Chelsea defence can be got at if we got ASM on the ball in good areas, at least, however this game was only going one way if we didn't get out our own half and closer to a painfully isolated Joelinton.
Half-time and we could count ourselves lucky to be just 0-1 down in what was a pathetically passive display full of misplaced passes, a lack of pressing and poor defending.
To sum up the extent of that diabolical first 45, Chelsea centre-back Kurt Zouma completed just five passes less (65) than the ENTIRE Newcastle side (70), with us also making just ONE tackle up to this point.
The second half started and there was one change, with Jamal Lascelles hobbling off with a knee injury and Fabian Schar coming on in his place.
We had a little more of the ball in the opening stages, but intensity levels were still lacking and, yet again, it wasn't long until Timo Werner got in behind.
He made the most of some horrific defending from Schar, robbing the Swiss centre-back and bearing down on goal – only for an unselfish pass across the box to Hakim Ziyech being under-hit and easily intercepted.
Yet again I was left wondering how it was only 0-1, but the longer we kept them out at that end – albeit fortunately – the more chance we had of nicking the most undeserved draws, with Hayden smashing over a big chance (that might've been penalised as a handball had he scored) and Joelinton side-footing a decent chance just over the bar after finding space on the edge of the area.
They were our big moments to get back into the game, but normal service was resumed soon after via another marauding run from Timo Werner – only this time it ended in a goal.
The German burst through several black and white bodies on the counter, cut inside and slipped Tammy Abraham in on goal, who made no mistake in sliding the ball past Darlow and in off the post. 0-2, game over and no less than Chelsea deserved.
With 20 minutes left, Sean Longstaff gave us a rare moment to enjoy. His 30-yard strike looked destined for the top corner to give us a late lifeline, only for it to clip the bar and fly into the Gallowgate End for a goal kick.
We now had two options. Either go for it and risk a hammering or sit back and accept our fate. Based on Bruce's decision to take off ASM and bring on Andy Carroll – who hasn't scored a PL goal for over three years – it's fair to say he went for the latter.
The offside flag then saved us from going 0-3 down after Werner rounded Darlow and poked home, then Mason Mount was the latest Chelsea player to get in behind a few moments later – only for his effort to be scuffed wide.
After coming on for the disappointing Manquillo, Almiron's had a deflected effort saved by Mendy following some good work from Joelinton, but it was all too little too late, with us waiting until the 80t minute mark to test the Senegalese stopper.
In a moment that summed up our total lack of attacking intent, we had a throw-in next to the corner flag with seven minutes to play – yet it took as many seconds for us to play the ball all the way back to Karl Darlow…
Chelsea look a very good side, but we paid them too much respect and could've easily lost 0-5 on another day in what was a passive, pathetic and ultimately pointless watch at St James' Park.
Next up we face Palace (a), Aston Villa (a), West Brom (h), Leeds (a) and Fulham (h). Fail to improve over what promises to be a season-defining festive period and we'll be in serious trouble.
Follow us on Twitter (@NUFCBlogcouk) and on Facebook HERE