Hi Chris and Robbie!
I'd like to respond to some of the points you made in response to my initial article (read it here), there's nothing like a healthy debate after all!
Just incase you missed it, here is their response to my piece on Saturday night's BBC Radio 5 Live:
Let's get straight into it then shall we, starting with money.
Steve McClaren spent £83m as Newcastle United manager. Steve Bruce has spent £110m. Also, you said "on average over two seasons" when talking about McClaren Chris. Well he lasted less than a full season. He was hired in June 2015 and fired in March 2016.
As for Rafa Benitez, his outlay is a little higher at around £137.7m. I say around as different sources of info give slightly different values of certain transfers. However it's the NET spend (which in fairness is something I should have stated in the previous article) that makes for interesting reading, as the comparison between them is stark.
Rafa Benitez -£35m.
Steve Bruce £110m.
I'd also like to point out Benitez was our manager for 1.75 seasons more than Bruce has been there.
Steve Bruce's net spend on players is 100%, and unequivocally the highest of any Newcastle United manager in the history of the club. I hope this clears that up.
You'll notice I didn't mention Rafa Benitez in my previous article, I can quite easily argue why Bruce is a slow car crash of a manager without mentioning others, but seeing as you did, I'll talk about him, and how the difference between him and Bruce isn't as black and white (no pun intended) as you make out. I'd also like to point out I do not think Rafa was perfect, but he is a far better manager than Bruce, and was better for Newcastle United than Bruce is. There is far more to the argument than just a simple look at results and points per game.
Benitez had to build an entire new team for the Championship after a fire sale following relegation in 2016. He won promotion, and took a relatively young team up into the Premier League and stabilised it in mid-table for two seasons after winning the Championship. In fact we finished 10th in our first season back, Sheffield United finished 9th last year and Chris said Rafa "didn't do a great job", but Chris Wilder did an "amazing job"? Is one league position the parameter between "not great" and "amazing" nowadays? The mind boggles.
Did we hold Benitez in too high esteem? Maybe to outsiders yes, but he dared us to dream and gave us something to look forward to. He had ambition, and wanted the club to push on and be the best it could be after the apathy that the Ashley years created. His managerial CV inspired confidence, Bruce's does not. He gave us hope, it's something every single football fan in the world should have a right to.
The team Benitez built finished the 2018/19 brilliantly. That was his last act as Newcastle manager. After a dreadful start, our form from the turn of the year was that of a top 6 team, we had the 7th best defence in the league, we won 6 of the last 12 games, scoring 20 goals in the process. For a team that was only in its second season back in the PL, that's excellent do you not think? Benitez built a good side that was clearly improving and was on an upward trajectory, and was only a couple of additions away from challenging the top 8. In stark contrast Bruce has won 8 of the last 32 PL games, I'm genuinely speechless at times when people say Bruce is doing a good job when presented with these facts. That is relegation form.
The reality is Bruce took over a good team, and while there was understandable and justified anger at his appointment from the fans, he took over a very healthy dressing room and a squad of committed players, with no bad eggs or trouble makers. He is surely and steadily making that team worse and the stats to back this up are completely irrefutable (seems to be the buzz word in this epic battle of wits).
He has more talent in attack than Rafa ever had, and isn't getting the best out of them because he simply doesn't know how to, all whilst making us unquestionably weaker in defence too. There isn't a single area in which we've improved under Bruce.
Chris, you stated Bruce lost 55% of goals from the team as Rondon and Perez left, and you're right, but in fairness this was also pointed out in the previous article. It must be said though, when the club spent £60m on Joelinton and Saint Maximin shortly after his arrival, Bruce defiantly claimed he'd signed off on the deals, was confident about the quality of both signings, and was determined that he would play expansive football and improve us. He couldn't have been more wrong.
Every fact I stated in the previous article about how Bruce took us backwards is correct. Less points, less goals and chances made, more goals and chances conceded, less possession, goalkeeper saves up over 30%. We're bottom of just about every single footballing metric, and while we're on this topic, look at this from this season…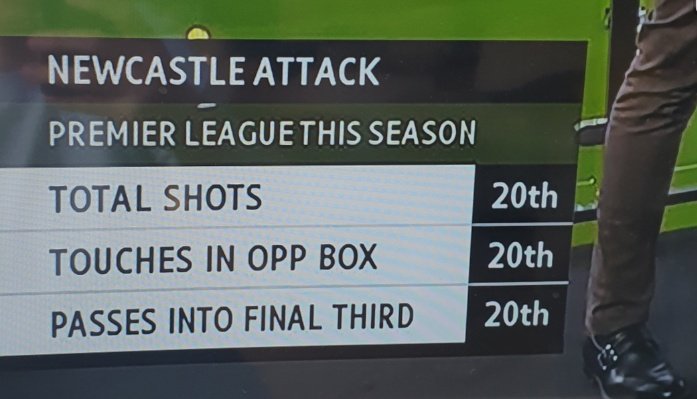 You answered my point about never improving players with answers that were very……well curious if I'm being polite. Almiron scored his first goal under Bruce granted, but just a few days after Bruce had a public spat with his agent over Almiron's lack of game time, being played out of position and the general style of play, you tell us Bruce has improved him. Like I say, curious.
Dubravka? Can you clarify this? What has made him better under Bruce exactly? The fact the amount of saves he's made has exponentially increased doesn't mean he's become a better keeper, it's more a testament to how bad what's in front of him is becoming. Are you also aware Dubravka made more errors leading directly to goals than any other PL goalkeeper last year? That isn't improvement.
Callum Wilson is a great signing and he's had a great start with 6 goals, but 3 of those were penalties, and his touches of the ball are way down on previous seasons. Saying Bruce has improved him feels inaccurate. Players like Jamal Lascelles, Sean Longstaff and Fabian Schar, amongst others have suffered a very noticeable decline under Bruce.
You rubbished my claim about Bruce not having conviction in his team selections, but let me clarify want I was trying to say. He's been in the job for long enough, and signed enough players to be able to call this his team. He should have had more of an influence by now and developed an ethos and style of play. There simply isn't one, and he also isn't capable of making tactical in game changes when we're being completely outplayed. Like I said, no plan A, no plan B.
Case in point, we've only come from a goal behind to take 7 points in 46 games under Bruce, which is simply atrocious.
He's already used 5 different formations so far this season, and clearly doesn't know his best team. He's scratching around to find a system than works, all while blaming it on players and the previous manager, which he has done in many press conferences and after match interviews, and he's also done this at other clubs.
He is an irrefutable failure as a Premier League manager. Statistically. You said he's never managed a top 7 club like he's never been given a fair crack of the whip, yet the real reason for that is that he simply isn't good enough. 68 managers have managed over 100 games in the Premier League, and he is rock bottom of the pile. How can being completely last and the worst at something mean you aren't failing at it?
His career follows a very similar and clear pattern, he does ok at the start, then absolutely nosedives, and once that happens there's no arresting the slide from him. He loses the fans, players start to down tools and it all ends in tears. The are already murmurings of discontent and the body language of the players doesn't look good. Surely you can see that? Why don't you ask the opinions of fans of some of the other clubs he's managed, I'm sure they will say something similar. Are there any fans of any of his former clubs who look at Steve Bruce with any particular fondness? Would you be happy if he took the Norwich job again for example Chris?
You should talk to your excellent colleague Micah Richards and ask him about the difference he saw when Dean Smith took over from Bruce at Villa.
I heard him talk about it on a BBC podcast sometime last year and it was very interesting. For a manager who took his first senior job to come in and make all those differences to what was happening under someone of Bruce's experience tells its own story.
Are we too sensitive as a fanbase? Maybe sometimes, but no more than others. we've had more failed takeovers recently than Joelinton has PL goals, and we're constantly being painted in a bad light because we're unhappy our manager is doing worse than our previous one. I honestly don't know any football fans who accept that lightly.
On a different note, all of us at our blog think what you're both doing for kids sport, and also raising awareness about dementia is absolutely fantastic.
Follow us on Twitter (@NUFCBlogcouk) and on Facebook HERE