That was absolutely abysmal, yet anyone who watches Newcastle United regularly won't be the slightest bit surprised by how bad we've played tonight.
Brentford were without several of their star players, below their best and there for the taking, yet an almost full strength NUFC had no answer. No identity, no game plan, no drive and no idea.
The team picked had bags of pace and our top marksman up front, yet we somehow made a Brentford side with wholesale change look a far more fluid and competent side.
We were abysmal and too many individuals performed well below their best, but this one lies at the managers door…again.
Bruce "hoped" we'd have enough before the game and said "let's have a crack" in his pre-match interview as if we were EFL minnows hoping for a giant-killing at Man City. He talked like a beaten man before a ball was kicked, and that's how his team played.
On paper it seemed we were taking it seriously and out to win this. In reality we were outmuscled, outworked and outscored by a second tier side playing their second team.
The game itself was a turgid affair and there to be won if either side wanted it.
Wilson may have had a big chance in the early stages and only just missed out on a brilliant Fraser cross, but we were fortunate to be level on the half-hour mark.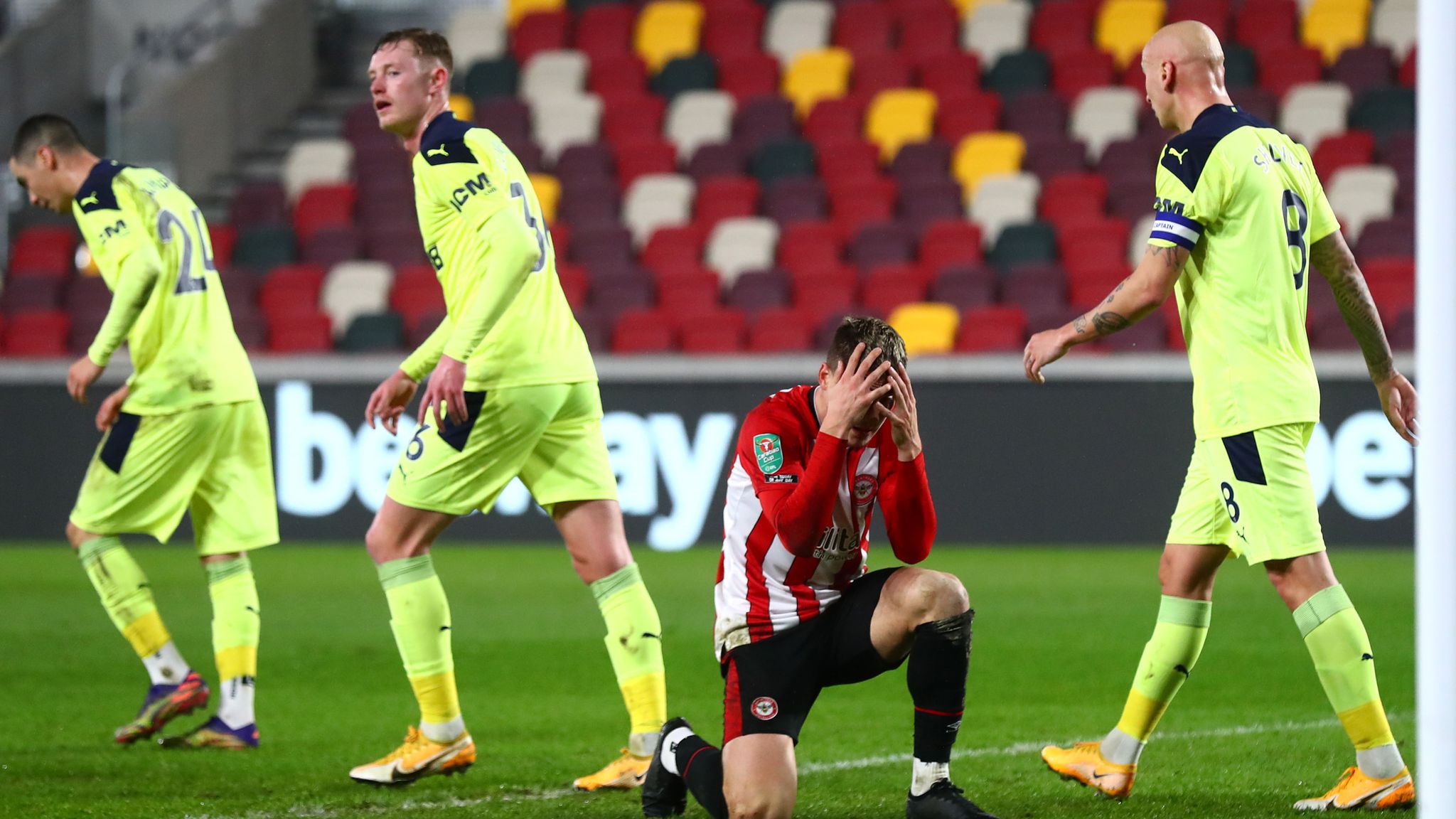 Ghoddos hit the bar from a cut-back that beat everyone but him, Pinnock headed over from a corner he had to score from and then headed back across goal from another set piece minutes later – only for Canos to get his angles all wrong and glance wide.
The pitch was awful (anyone remember that fake putting green inside American Golf?!) and the conditions not much better, but our our passing was dreadful – often going long to Wilson or rushing it forward without any controlled possession – and we were defending like a Sunday League side, gifting the hosts a few big chances via a total lack of marking.
We did, however, have a decent end to the half in terms of openings, with Fraser having a stinging shot tipped over and Wilson almost getting in behind after bullying the Brentford back line, but the odd moment where a half chance fell to us was as good as it got.
Going into the second it felt like the game was there for us to win. They weren't at it and a rare place in a cup semi-final was there for us to grasp. Possession, for once, wasn't a major issue in the opening stages, but our lack of quality on the ball and one dimensional way of attacking (lump it long to Wilson and hope for the best) was once again painful to watch.
Brentford weren't at their free-flowing best, yet they didn't have to do much to create very decent openings – and that was our undoing midway through the second half.
Yedlin hesitated to let Canos get in between him and Hayden, and the Spaniard's cut-back was driven home by Da Silva. Not for the first time we allowed an easy ball into the box and once again a Brentford player was given far too much space in the box. Schoolboy defending…again.
Bruce's response to going 0-1 down? Throw on every striker we own, continue lumping it long and hope for the best.
Don Goodman said we were 'really going for it' at this point, yet to me we continued to look lacking in ideas and so, so limited in possession.
Bruce doesn't do tactics – we know that – but his ploy to do nothing other than shove four up top and hang long balls up to Andy Carroll late on was frankly embarrassing for an 'experienced Premier League manager' who demands respect.
The full-time whistle went and with that went our hopes of a cup semi-final.
It's time Mike Ashley came to his senses and realised that Steve Bruce's luck has well and truly ran out.
Absolutely awful, yet an entirely predictable result and performance.
Bruce out.
Follow us on Twitter (@NUFCBlogcouk) and on Facebook HERE