If you're a pundit who is going to suggest Newcastle United fans demand Champions League football and are unrealistic, you should ask yourself why we were all so happy with Rafa Benitez as our manager.
We weren't fighting for a Champions League place. For most of the season, we weren't even competing for a top half finish. We went the first 10 games of a league season without winning a single match.
So why not the anger or the protests that you see and hear now?
We had a strategy. A clear tactical game-plan for each match. Players who fought for each other. A team that became greater than the sum of its parts. Organisation. Discipline. Structure. A defined, consistent formation. A group of professionals who each knew their role.
The manager wanted the best for the club. He pushed for improvements everywhere. He demanded the highest standards in training and in matches. He wanted a better academy and state-of-the-art training facilities. He wanted the best players available.
He refused to allow players to view Newcastle United as a stepping stone. He understood the size and history of the club, and what it should mean to play for or represent Newcastle United. He knew it was a privilege and should be treated as such.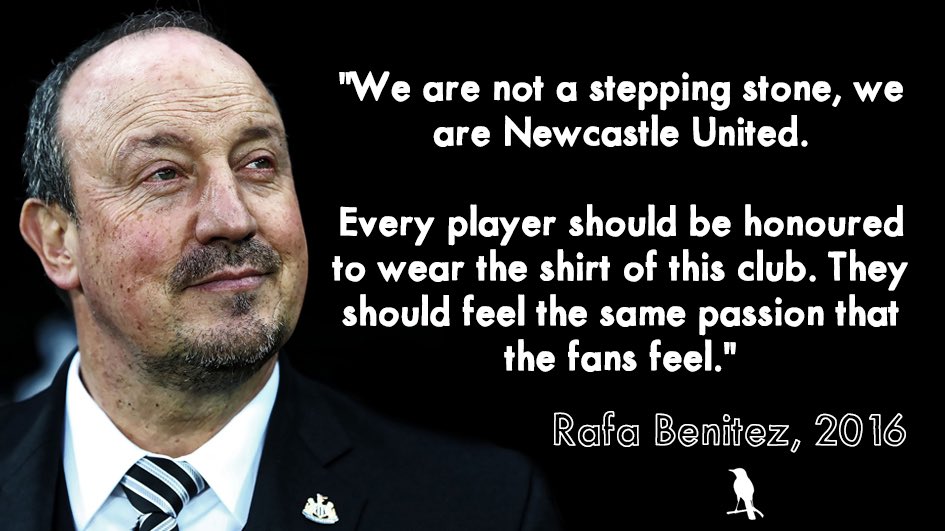 The manager understood the supporters. He didn't try to patronise us, or join in with tired media cliches about the fanbase. He didn't waffle and bluster his way through every press conference. He showed ambition and passion on a par with ours.
He engaged with the local community. He supported the food bank and the foundation. He gave time to local school children and fan groups, as well as the NUST. Everything about the way he acted exuded class and dignity. He represented Newcastle United with pride.
He was one of us, and that's nothing to do with where he was born. He wasn't a Geordie and that isn't what we ask for. He never played for Newcastle United. He didn't win us a cup or take us to the top of the league. He didn't lead us into European competition.
Yet we adored him. We loved him because he set the highest standards. He truly wanted the best for the club & he worked towards it, rather than just saying it. Putting the ownership of the club aside, we were everything under Rafa Benitez that we are not under Steve Bruce.
So the next time you say we're unhappy because we demand to be competing for trophies or playing in Europe, take a moment. Take a moment to question or challenge that tired, lazy, stereotypical rubbish. Take a moment to research. To do your job. To TRY to understand.
Follow us on Twitter (@NUFCBlogcouk) and on Facebook HERE