Steve Bruce will praise the players' effort and talk up the quality of the opposition, but that was another drab hour and a half of football to endure from a Newcastle United perspective.
Keeping the score semi-respectable at Man City will probably please the NUFC boss – his expectations aren't exactly high! – however we never looked like scoring, with several players showing a clear lack of confidence on the ball and Darlow forced to make several top saves (yet again!) at the other end to keep the score down.
It was a damage limitation job in truth featuring a team sorely lacking in belief and a Man City side that never had to get into their stride to sweep us aside without breaking sweat.
Those who continually defend Bruce will say "it's Man City, what more do you expect?", but 12% possession in the second half and a reluctance to lay a glove on a City side well below their best isn't much fun.
Steve Bruce called the negative reaction to our midweek defeat at Brentford "quite ridiculous" – a pathetic response to some very deserved criticism and one that was made even more laughable when you consider the painful 90 minutes that was to follow. There was plenty commitment and no one downed tools, but it makes a mockery of his ambitions that he called our performance "good news" when speaking to BT Sport after the game!
Avoiding an absolute hammering isn't worth of praise. Instead, it only increases the feeling of apathy within the fanbase, with every game of ours feeling painfully predictable…and not in a good way.
Bruce made five changes from the side that lost to Brentford in midweek, taking out Lewis, Shelvey, Sean Longstaff, Fraser and Wilson. Back in cam Schar, Fernandez, Ritchie, Matty Longstaff and Joelinton – with the latter left alone up top after we reverted to a five-man defence.
We actually started the game OK, pressing well, being strong into the tackle and getting a few decent early balls into the box.
They had 65% of the ball on the 10 minute mark, but we'd limited them to just one dangerous cross into the box at this point, with most of the early play seeing them pass the ball across their back four and struggle to get their creative forces into the game in good areas. It didn't take long for this to change, however.
It was their first meaningful attack, but all it took was a Cancelo pass in behind Ritchie to set Sterling in on goal. The angle was tight for the England international, but he was given far too much time to make his mind up and pick out an unmarked Gundogan who tapped in from a few yards out.
It had been a half decent start in some respects, but once again poor marking and ball watching cost us.
The goal seemed to break our spirit a little (not that we had all that much to start with!) and saw us sit even deeper, yet the most frustrating thing was the way we so often went backwards (once again!) the rare time we got the ball into half decent areas. It stunk of a team who aren't used to attacking and players who are clearly lacking in confidence.
We had the odd half chance as a good Almiron cross and Joelinton flick only just evaded Schar at the back post, but we were lucky not to be 2-0 down when a De Bruyne one-on-one was blocked well by Darlow.
City hadn't got out of third gear and looked relatively lethargic. There was a chance for us to pull off the 'Christmas miracle' if we really wanted it in the second half, however we needed to do more than hoof it up to Joelinton, put bad balls into the box or go backwards the odd time we got possession in their half!
After all, you need a shot on target to score a goal and we didn't have one in the first half, highlighting what would need to change if we were to get back into the game in the final 45 minutes.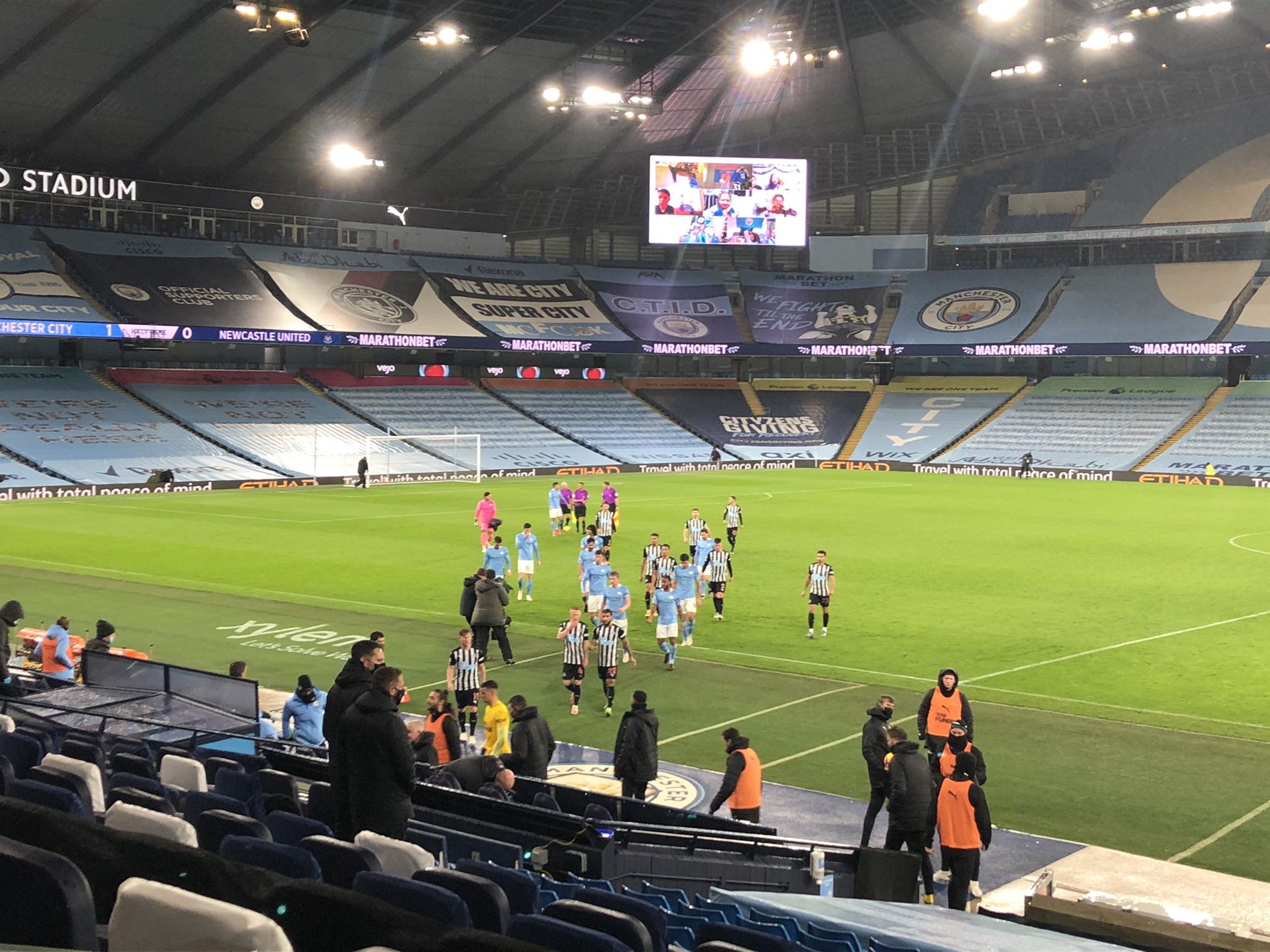 Five minutes into the restart and it was City who should've made it two, with Stones miscuing a header that was put on a plate by a De Bruyne free kick that beat everyone in black and white.
Another one that we got away with to give us a fighting chance. Our first shot on target then followed via a brilliant bit of hold up play by Joelinton and good ball in behind by Almiron that set Murphy away down the right, however the latter's shot was well hit and well held by Ederson.
Moments later and it was a moment of Miguel Almiron madness that ultimately put the game to bed. He dithered on the ball in a bad area, had his pocket picked by the impressive Cancelo and his cross then fell to Torres after a last ditch interception from Fernandez allowed the Spaniard to finish from close range.
Once again, we didn't clear our lines well enough and were punished.
2-0 City and that felt like game over….not that many Mags sat at home genuinely felt like we were in the game at 1-0!
City were now in cruise control, enjoying just shy of 80% possession at this point as they looked to see out this one with minimal fuss. You'd like to think we'd now push for a late goal that might just give the hosts something to think about late on – Bruce did say we'd "get stuck into them" – but we continued to leave Joelinton horribly isolated and barely got out of our own half. It was a damage limitation job from start to finish, not an attempt to genuinely respond to that shocker at Brentford.
Had Darlow not pulled off a few miraculous saves the scoreline would've got ugly, meanwhile our only efforts of note in the second half were two decent strikes from Jacob Murphy – the only player in our side who didn't look scared to carry the ball forward at times!
Next up, Liverpool at St James' Park next Wednesday followed by another home clash with Leicester in our first game of 2021!
Follow us on Twitter (@NUFCBlogcouk) and on Facebook HERE