Steve Bruce had his pre-match press-conference today and decided to, once again, pretend that there isn't a vast internet history of all the things he's said in the past.
Keith Downie of Sky Sports reported on some of the questions asked and answers given in a press-conference where the written press were banned.
The opening questions garnered the same old repeated nonsense that he normally comes up with, but the final two at least forced him to answer in a different way.
See them and Bruce's responses for yourself here:
I found it interesting that after spending perhaps his entire job here telling everybody how criticism has been unfair and disrespectful that he shied away from answering when asked directly about it.
I'm pretty sure everybody had already made "their minds up on that", Steve. I don't think you have to worry about that. Maybe in the future, don't spend your entire time as manager whining about results being poor whilst doing absolutely nothing to fix it.
Everyone knows how "involved" you've been in the criticism debate, Steve. All of your little friends have been lining up to defend you against the big, bad Newcastle fanbase who expect too much and say mean things about you.
As a side-note, Bruce has claimed on several occasions that he doesn't "do" social media and that he's not affected by it but has on several other occasions spoken about how unfair it has all been to him. I even found an article from September in which he speaks about social media criticism, saying: "Of course, social media, I can't control that. Some of them have been a bit distasteful and one or two journalists, I'm not their cup of tea but I think you accept that along the way."
He hasn't tried to control himself in the past when speaking about criticism and I personally hope that this is the last desperate ploy of a lazy, under-qualified manager who is about to lose his job.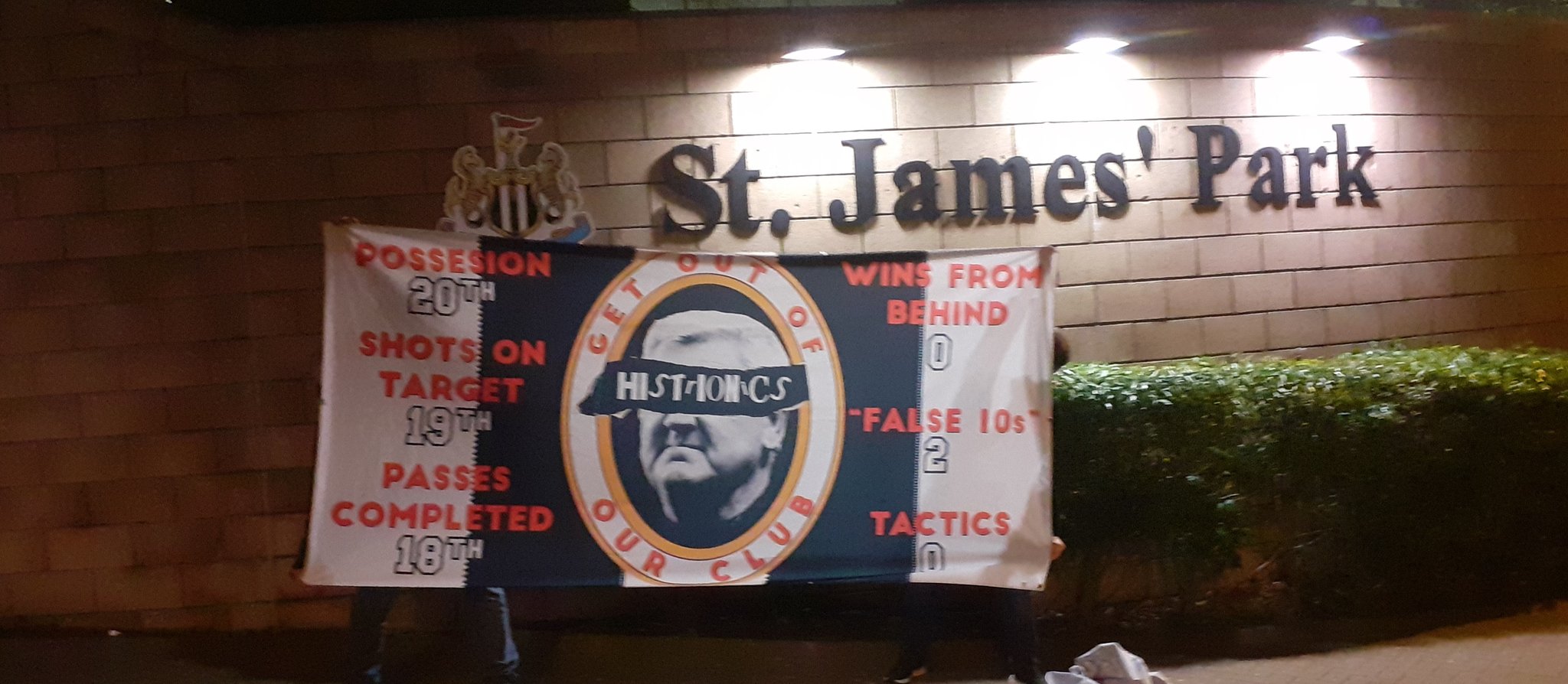 The last thing that Bruce touches on is that he is – buzzword alert – "disappointed" to hear about fans protesting outside St James' Park. I would like to question what he actually means by this because but I think he is saying something a lot more disrespectful than it looks as first glance.
He first says that he can "understand" how the protesting fans "feel", that he recognises we've been on "a poor run" but then says what he is doing to fix it which is to "try and get the team in as best shape is I can."
The word "disappointed" is defined as: "sad or displeased because someone or something has failed to fulfil one's hopes or expectations", so what is he actually "disappointed" about here? Is he displeased that the fans have failed to fulfil his expectations by expressing their disappointment in him?
Given that he has a history of blaming "histrionics" of fans, I would suggest that this is yet another horrible little dig at a fanbase who are simply desperate for our club to be ran properly.
If Bruce's antics and banning of the press hasn't already turned you against him, I'd suggest considering who he thinks is to blame for his failings at Newcastle because he doesn't think it's him.
Follow us on Twitter (@NUFCBlogcouk) and on Facebook HERE