After a brilliant win at Everton and equally impressive start to this one, Newcastle have gone on to lose 2-1 to Crystal Palace via some poor finishing, soft defending and clueless second half subs from Steve Bruce.
Alongside the wind and rain, there was a certain air of positivity going into the Crystal Palace tonight, as Newcastle had ended their dire 11-game run with a very convincing win against Everton.
For many, the way we approached the game was the most impressive thing and there were high hopes that we would carry on with the same mindset into the next game.
There was only one change to the line-up with Ciaran Clark replacing an injured Jamaal Lascelles. There had been rumours of Ryan Fraser missing out due to illness over the weekend, but he was able to shake that off enough to start the match, meaning Saint-Maximin started on the bench.
Sadly, his is the match that tells you how bad Steve Bruce actually is as a manager because he simply doesn't know how to manage a match.
We started brilliantly and had all the attacking intent you could ask for but this turned into a sad state of affairs.
The first half, despite good football and plenty positives was ultimately ruined by errors which led to Crystal Palace scoring two. The second half, however, was poor and was summed up by Steve Bruce's desperation of giving up on a formation to throw on random attackers.
Saint-Maximin for Hendrick made sense, but removing Manquillo and Clark for Gayle and Carroll showed that Bruce clearly had no idea how to win the match.
Playing a good game now and then isn't acceptable and Bruce needs to go.
Newcastle started fantastically, just 70 seconds in, with a brilliant bit of play culminating in Shelvey smashing the ball into the net! Excellent play by Almiron and Wilson, which you can see below:
The match started to even out a bit after 5 minutes but Newcastle were still pressing and attacking resulting in a corner on the 8th minute leading to Hendrick just missing will a shot on the turn.
Palace showed their teeth on the twelfth minute with a good cross into Ayew that was knocked out by good play by Lewis. The resulting corner led to the ball flying over the bar after a poorly hit shot.
Good power and pressure from Wilson won Newcastle a corner in the 14th minute after forcing Cahill to make a mistake. The corner was easily cleared but Newcastle kept up pressure.
Again, good play by Newcastle with Alimron and Fraser combining to set up a good attempt by Wilson that unfortunately went over the bar.
Then, an equaliser out of the blue, with a cracking shot from Riedewald and cruel deflection flying past Darlow.
Arguably against the run of play but Palace worked the goal well before the emphatic.
Three minutes later and we were suddenly behind. Lewis gave away a cheap free-kick and Gary Cahill broke clear from Schar to head home the resultant delivery. The score felt unfair at this point, but that's what you get for poor finishing at one end and soft defending at the other.
It was then almost 1-3, only for Zaha's back-post tap in to be ruled out after Michy Batshuayi was shown to be in an offside position.
Shelvey then received a stupid yellow card on the half way line in the 29th minute. Newcastle took advantage of Palace's attack from the free-kick and Fraser's shot was easily gathered by their keeper. Another sign we had goals in us, but another chance wasted.
The confidence from the early minutes have deteriorated and the pressing has weakened.
In the 33rd minute, Wilson made a brilliant pass to put Fraser through the middle up against the keeper but his looping shot was well saved. Should've been 2-2. Hopefully that will instil some courage and confidence that an equaliser was coming.
Miguel Almiron was so close to an exquisite leveller on the 37th minute, as his free-kick deflected just over and brushed the top of the bar. The resulting corner had Schar floating a header just wide.
Schar had another go on the 39th minute with a sharp strike from outside the box but was unfortunately a yard or two wide. Some patient build-up play from Newcastle before extra-time but unfortunately it came to nothing.
The half-time score felt unfair and, to quote Steve Bruce, was "disappointing". Newcastle were definitely the team in control and probably deserved a goal or two more from their good play. Wilson was another level to most, if not all, players on the pitch at times and Almiron was full of running and skill.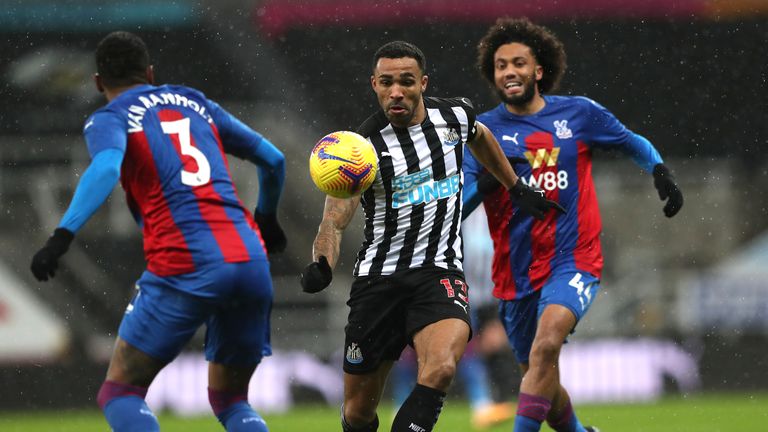 The score felt like a smash and grab really. Newcastle dominated for roughly 40 minutes but Palace successfully used their time efficiently and were able to use their time in the best possible way. Poor defending needs to be eradicated as soon as possible because the intent is there for all to see but there needs to be level heads at the back.
There were no changes for the start of the second half and Newcastle started with an attack that ended up in the keeper's arms before a decent strike from Van Aanholt in the 47th minute forced Darlow into a solid near post stop. The whole move was offside but a warning to Newcastle.
Very good play from Fraser then arrived in the 50th minute led to a yellow card on Clyne. The Scotsman was definitely making a nuisance of himself and the Palace right-back was now walking a tightrope.
The good work continued with Wilson's heading wide after a good cross from Fraser in the 54th minute, showing the former Bournemouth pair link up well once again.
Palace's main danger man, Zaha pulled his hamstring and was taken off on the 56th minute with old boy Andros Townsend coming on to replace him.
The long delay on taking Zaha off definitely seemed to take the punch out of Newcastle's attack and also coincided with them sitting back and getting 11 men behind the ball. Surely it would only be a matter of time until Saint-Maximin would be introduced?
On the 63rd minute, Newcastle added to the attacking intent with Saint-Maximin replacing Jeff Hendrick, and the Frenchman immediately put Wilson in behind before Clyne came across well on the cover.
The general pace of the game had slowed down by the 69th minute and it felt like a little bit more urgency was required to make an impact on the match. We looked tired and far less fluid, struggling to break down a frustrating Palace side.
A nasty challenge on Wilson in the 70th minute. It seemed like a cynical yellow at first, but Milivojevic's tackle was high and saw him stud our £20m striker in the knee. Red card? Not on VAR's watch as he was only given a booking.
Dwight Gayle replaced Manquillo on the 76th minute resulting in a confusing formation (Fraser was now at right-back!?) and too much passing back – resulting in slow, laborious football.
85 minutes gone and Newcastle were now taking to shooting far outside the box, with Shelvey and Schar lobbing hopeful shots well over the bar.
This is when Bruce needed to step up, yet Carroll replaced Clark on the 88th minute and any semblance of a proper plan for attacking had been thrown out of the window for desperation.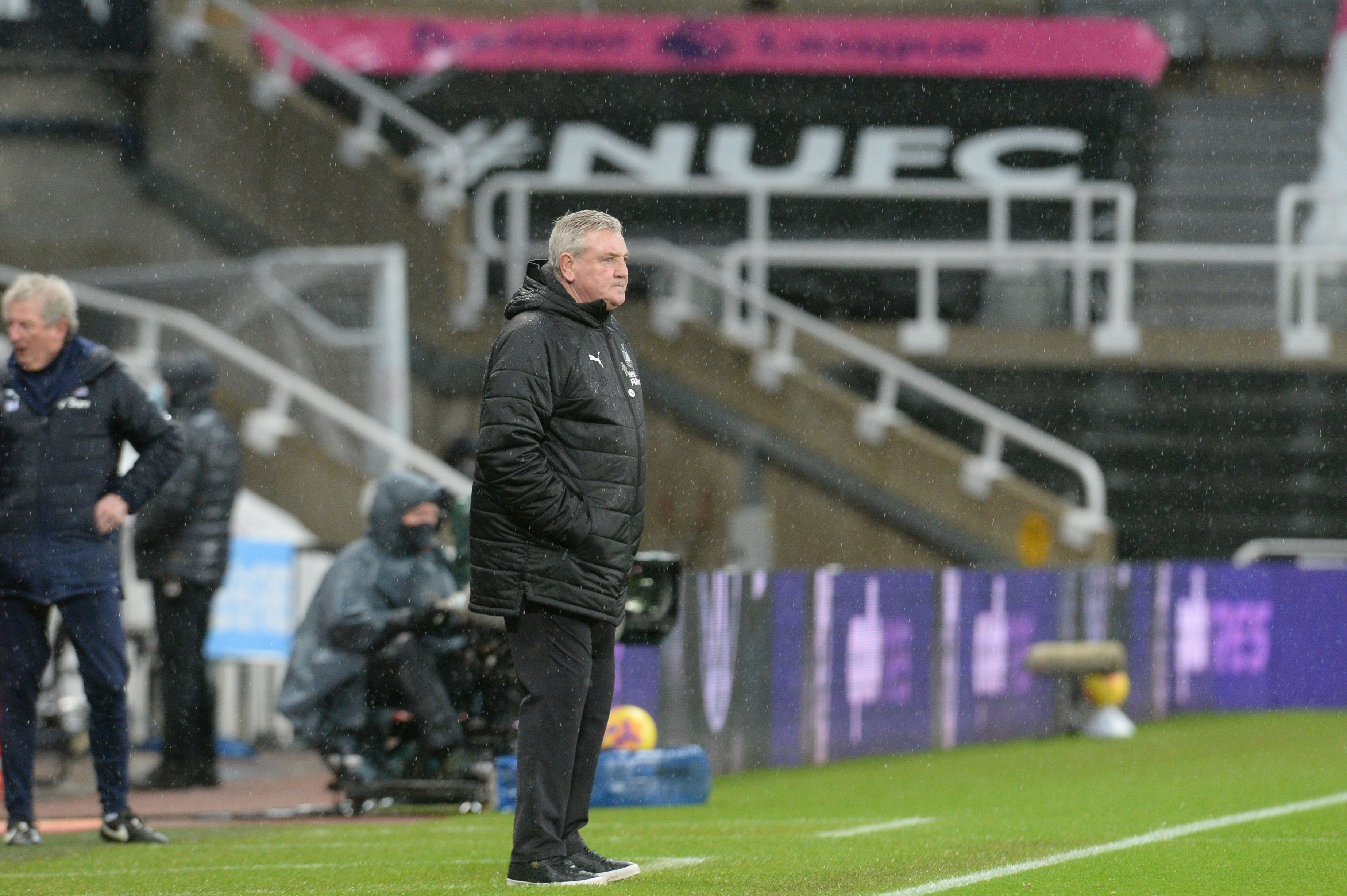 Townsend blasted wide from a sitter in the 90th minute after Palace took advantage of Newcastle's lack of defence. Lucky for Newcastle. He should've scored.
After tacking an age to move the ball and get it into the box, Carroll's header in the final seconds of the game was comfortably caught by the keeper.
Full time 1-2.
A blunt, slow second half which ended with just about every attacker on the pitch but no balance behind them to control the game and get good balls into the box.
There needs to be more direction and I thought it was especially interesting that the man micromanaging in the Everton game was relegated to the stands for the beginning of the game.
A good start but a game that ended in Bruce showing his severe limtations from the sidelines.
Next up, a huge game against an injury ravaged Southampton side who had two sent off in a 9-0 defeat to Man Utd tonight!
Follow us on Twitter (@NUFCBlogcouk) and on Facebook HERE