Saturday's 2-0 win at Everton was simply fantastic. We were outstanding in every way, and it came from absolutely nowhere! Personally, and I'm sure I'm not alone, I think it was the best performance of Steve Bruce's tenure, and by some distance.
It was everything we haven't been in recent months. We were competitive, aggressive, ambitious, and seemingly with a plan. We didn't just fulfill the fixture, we tried to win one, and succeeded. The team selection, tactics and approach were spot on.
A lot has been said about newly appointed Graeme Jones' impact. Wether it was his 48 hours on the training pitch which was responsible for the drastic upturn at Goodison, or Steve Bruce's defiant "my way" and "gloves are off" statements were in fact more than his usual baseless bluster we've become accustomed to, is irrelevant. Whatever caused it needs to continue.
This isn't a time to be negative after a performance and win that reminded a lot of us why we even bother supporting a football team after the past few months, but in order to accentuate the positives, we need to remember the negatives.
Bruce's performance as Newcastle United the last few months has been nothing short of woeful, and he's fortunate to still be in a job. Saturday only served to highlight that NUFC fans have had every single right to have been annoyed at recent (and many not so recent) performances, because the simple fact is that we have good players!
On Saturday those players were played in their correct positions, knew their roles, and showed that they can be better than what we've seen.
So I'm sure we're all in agreement that this chopping and changing of players and formations needs to stop, and please please please, more players out of position.
We need to play with a back 4, and Javier Manquillo should be our right back. He was excellent in his natural position. No more defensive midfielders or wingers playing there in what has seemed like a weekly raffle for as to who is selected in that particular position.
Isaac Hayden is a holding midfielder, and needs to play there. Almiron excelled playing his natural position, Wilson was outstanding with support and service…..it's almost genius in its simplicity.
If it was Jones' influence on the game plan and approach, then Bruce deserves credit for bringing him in. If having a good coach/assistant turns Bruce into a better Newcastle United manager, then bring it on.
The same approach and attitude is needed tonight. If we play how we played on Saturday, we'll beat Crystal Palace.
Over to you Steve…..(and/or Graeme)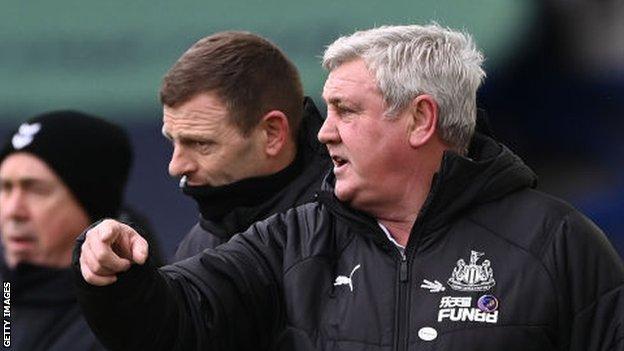 Follow us on Twitter (@NUFCBlogcouk) and on Facebook HERE