A very poor display from Newcastle led to an easy 2-0 win for Chelsea, thanks to cheap first half goals from Olivier Giroud and Timo Werner.
The desire and fight seen in the Southampton game was a far cry from what was witnessed at Stamford Bridge and we may as not made the trip to the capital.
As much as Wilson is a loss to this Newcastle team, there is no excuse for such a negative display. Sky Sports repeated the line "a depleted team" a few times but we went into the game missing only two regular starters.
After a scary but well fought win against Southampton earlier in the month, tensions had been eased temporarily but with Fulham winning and news of Wilson's injury, fears of capitulation had started to raise up again.
Going into this game, Chelsea had seen an upturn in form under their new manager, Tuchel, and with Bruce, once again, talking up the opposition fears of a bad loss and negative football was a concern.
Team news was about as good as could be hoped for with the loss of players from the Southampton game. Dwight Gayle came in as a replacement for Callum Wilson meaning that the attacking formation from the previous game was the same if not lacking in quality.
Jeff Hendrick's suspension meant that the was room for a different midfielder and because of the return on Lascelles and Clark, Hayden was able to slot back into the far more familiar role of Centre-Midfield.
Barring the questionable, continued exclusion of Dubravka, the team selection seemed sensible and also promised to continue the attacking approach which had garnered better performances and results.
The big question was how Newcastle were going to perform without the striking talisman of Callum Wilson?
Chelsea's dominance was clear to see ten minutes in, with Newcastle's poor passing and sloppy marking from set pieces a consistent let down.
Jamaal Lascelles made a cracking tackle in the 15th minute to stop a strong run by Tammy Abraham. VAR checked the tackle and confirmed it was all legal but it led to an unfortunate injury for the Chelsea striker, leading to him being replaced by Olivier Giroud.
Surprise surprise, it was that man who then broke the deadlock for Chelsea in the 30th minute. Darlow saved a cross from Timo Werner after the German left Krafth for dead, but the GK's parry diverted it out into the feet of the French striker, leading to an easy tap in. A frustrating goal to concede. 1-0 Chelsea.
Timo Werner then broke his non-scoring drought by taking advantage of extremely bad defending and non-existent marking (again) from a corner in the 39th minute. Two really easy goals given away and it felt like game over barring a serious turnaround.
The first half really was a sorry affair.
The loss of Wilson and Manquillo was really felt as both their replacements failed to make any sort of positive impact. Gayle floated around the right-hand side doing nothing and Krafth struggled against any opposition pressure.
The passion and grit from the Southampton game was completely absent along with a coherent game plan. Consistency in play style is an expectant but the diamond formation left the full backs dreadfully exposed whilst providing nothing of note in an attacking sense.
The team entered the pitch as disinterested as you would be if your manager had practically excused a loss before a ball was kicked.
Newcastle came out of the break with a bit more energy. There was less of a passive approach and it raised the question why we didn't start the game in this fashion?
Joelinton replaced an anonymous Dwight Gayle in the 64th minute and if he were to touch the ball more than once then he'd arguably have more an impact.
Gayle's inclusion, though it seemed sensible to at first, was bizarre when brought into the context that he'd played 100 minutes since December and was being asked to play in a position that really didn't suit him. Had Gayle been at the top of diamond then maybe we would have been a bit sharper.
Joelinton seems like a better pick for the position that Gayle was being asked to play in.
Ryan Fraser was the second replacement of the night with the Scotsman replacing Saint-Maximin in the 72nd minute. Bruce will of course rue the fact that he was once again unable to play the two together at the same time…
Fraser started well and immediately put in a good cross for Joe Willock who forced a save from Kepa with a well timed run and glancing header.
Bruce made our final change on the 79th minute with Andy Carroll replacing Joe Willock. Presumably the thinking was that Carroll could make better use of Fraser's crossing. His first move was to foul a player though, of course.
Despite more competitive play in the second half, everything in general was too flat. Had this been the play when the score was 0-0 then there wouldn't be much to complain about but the lack of urgency from a team 2-0 down was subpar.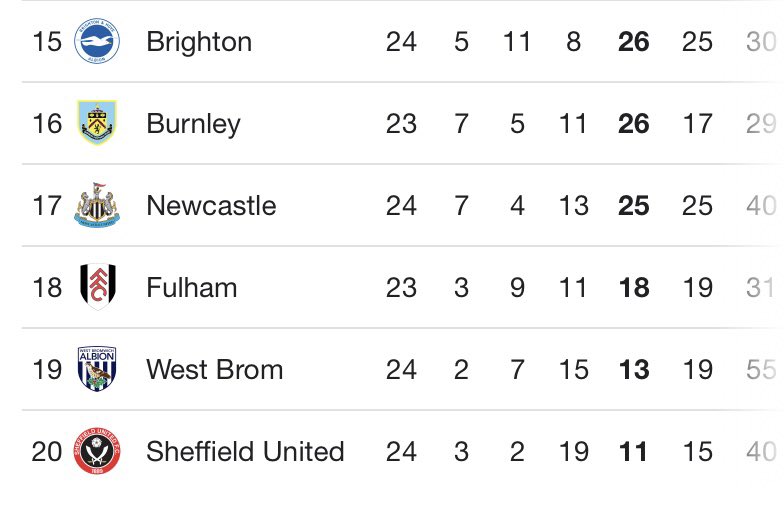 Newcastle end the game in 17th and we should be very worried about what may be coming, with Fulham seven behind us, with better goal difference and Burnley and Sheffield United to come before we play Man Utd on Sunday…
Not good enough.
Follow us on Twitter (@NUFCBlogcouk) and on Facebook HERE