'Accumulation of p̷o̷i̷n̷t̷s̷ defeats'
2 wins in 20. An absolutely horrible display – worse than the one against Sheffield United – saw us lose 3-0 to Brighton at the Amex Stadium in a must win game when we didn't play a single striker.
Brighton came into this with ONE Premier League win at The Amex in their last 20 attempts, yet we made them look like Barcelona (again!) in a relegation six-pointer and failed to land a single shot on target – and that doesn't even cover the total lack of desire reminiscent of a side no longer playing for the manager.
If this isn't the end of Bruce then I don't know if we'll ever see the back of him. He needs to be sacked immediately.
I don't care if we replace Bruce with an actual cabbage at this point, because he's so useless that an inanimate object could do a better job than him at this point.
Fulham's loss on Friday evening really was quite an unexpected gift to Newcastle United on the eve of one our biggest games of the season against Brighton at the Amex Stadium.
The previous game against the Seagulls, in the second game of season, really didn't play out well for us and was a huge red flag for how our season was going to progress.
Before the game, the narrative and expectations were split between whether a draw was acceptable or not but it was very clear from all Newcastle outlets that a loss was intolerable.
Brighton made one change from the team that beat Southampton last Sunday with Dan Burn dropping to the bench and being replaced by Jakub Moder.
We, however, were able to make two significant changes with Javier Manquillo and Miguel Almiron returning to the team. Both players provided significant upgrades to recent lineups and, with Almiron's return in particular, there was a little more optimism around Newcastle's chances down south.
Stats in the build-up to this game pointed to the probability of a 0-0 draw as this match was the eighth time, we had met in the Premier League with Newcastle yet to grab a win and only registering one solitary goal in all of those matches. However, Brighton did not have the best home form before this game either, with them only managing to register one win at the Amex all season.
It was a messy affair at the start of the match but real fear popped up in the early minutes as Brighton tore the Newcastle defence apart but luckily ended in Dubravka saving comfortably, however, this was just a pointer to Brighton's dominance at the start of the game.
Brighton were probably always going to dominate possession in this match but the complete lack of an apparent plan from Newcastle, 25 minutes in, was seriously baffling. 83 passes to Brighton's 243 is a worrying statistic indeed.
Flashbacks to the Sheffield United game here as Newcastle have 25% possession against a team who has only won 1 of their 15 games at home.
Isaac Hayden went down badly towards the end of the half and was replaced by Mr Invisible himself, Jeff Hendrick. It looked like a really bad one and hopefully Hayden will recover soon for his sake and for the club's sake.
After latching onto a long ball, cutting in and being given too much space to line up a shot, Trossard scored at the end of the first half and it can't be said that it wasn't coming. A good finish but stand-off defending – not that it was anything less than our appalling first half display deserved!
An absolutely dire first half in which Newcastle were lucky to say that they were only 1-0 down. The approach to the game had shades of the Sheffield United game and was building up to finish in the exact same way.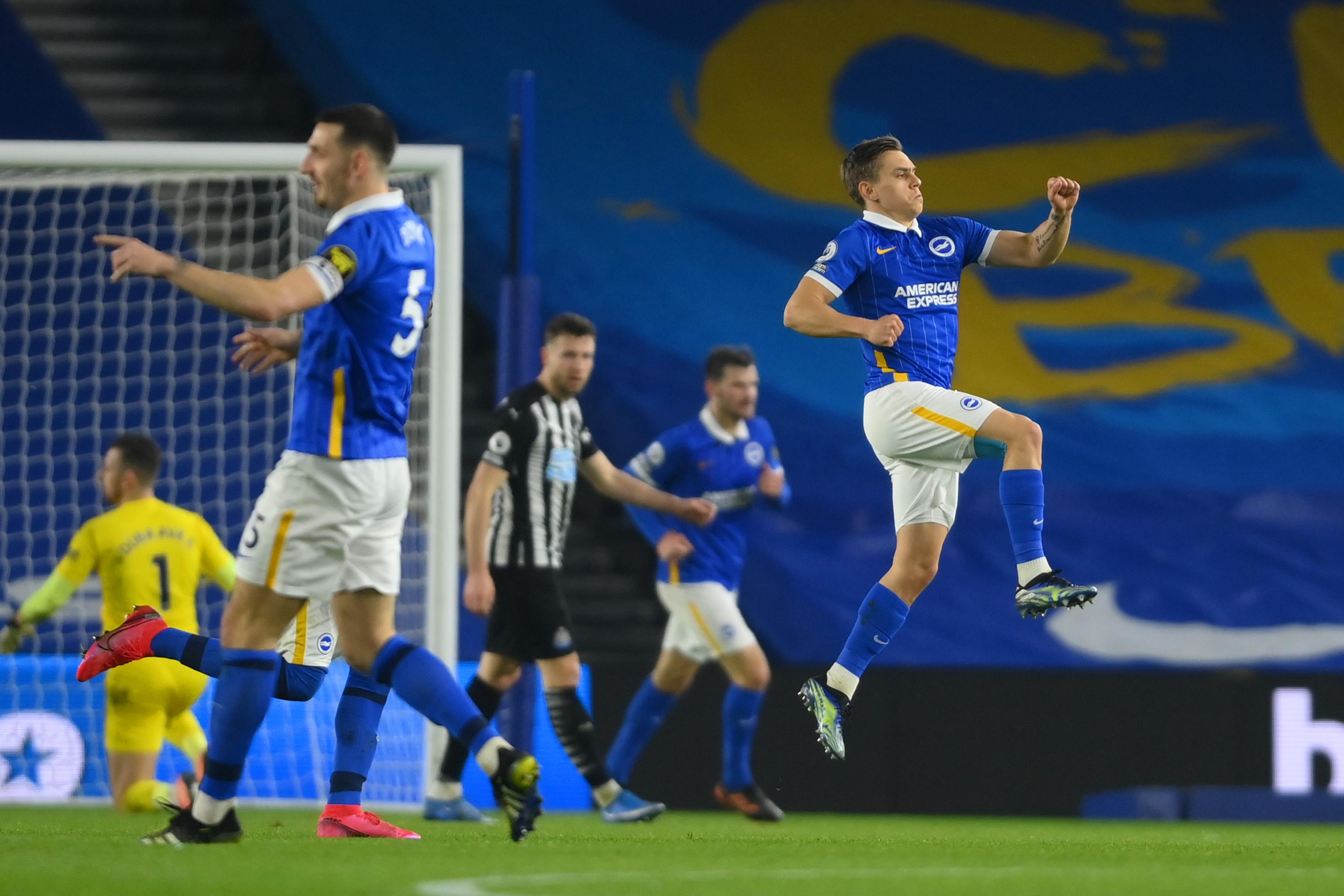 The second half started and, aside from Fraser hitting the post after some good build-up play, nothing had changed.
The game felt done at 1-0 in truth, but Welbeck then made sure of it by doubling Brighton's lead in the 51st minute and any hope for Newcastle to get anything from the game fizzled away quickly.
Neal Maupay then added another in the 68th minute to end his dry spell in front of goal, naturally against Bruce's Mags. 3-0 and we have never looked like threatening except for one shot by Fraser.
Sean Longstaff made a rare appearance in the 75th minute assuring that we haven't had a single striker on the pitch for the whole game.
The commentator quipped that we're playing like we're against Barcelona not Brighton. Sadly true, highlighting how good we make average teams who've won one of their last 20 Premier League home games look – just as we did at Sheffield United back in January.
An absolutely awful result and pitiful performance. Sack Bruce.