Well, that was absolutely pathetic and 90 minutes of nothingness that barely warrants a player ratings piece, but here goes…
Here's an assessment of each player's performance along with my marks out of 10:
Dubravka – 5 – There wasn't a lot he could do for the goals and he made a few good saves to keep the score down. His distribution was poor, but he was the last man you could blame for this defeat.
Manquillo – 3 – It wasn't the best return for the Spaniard. He was regularly out of position and struggled to deal with the overloads down his flank.
Lascelles – 2 – The anger should be directed at the manager, but the captain should take some of the blame. He allowed this performance to happen on his watch, showing a lack of fight as the leader of this sinking ship.
Clark – 3 – Gave Trossard far too much space to turn and shoot for their opener. He's a solid squad player, but Clark isn't good enough to be playing regularly in the Premier League. He was bullied tonight.
Dummett – 5 – As ever, he played with his heart on his sleeve and made a few good tackles. The yellow card showed he cared, unlike others on the field.
Hayden – N/A – He suffered a horrible-looking knee injury early on and was stretchered off. Let hope it isn't as bad as it looked, but it allowed him to leave the pitch before it got ugly.
Shelvey – 2 – The image of him with his hands on his knees as Neil Maupay scored has been seen too many times. He was awful. There were a few chances for him to launch attacks when the scores were level and his passing was way off. Also, scuffed two opportunities to start an attack moments before Brighton made it two.
Willock – 4 – Unfortunately, he barely got the opportunity to get on the ball and make something happen. He showed some good movement in the first half, but the pass never found him. He's been our driving force at times in recent weeks, but he went missing here.
Almiron – 5 – The Paraguayan will always run himself into the ground and he did tonight, despite looking a long way short of match fitness. It was his excellent piece of play on the edge of the box that created the chance for Fraser.
Fraser – 4 – He was the most likely to make something happen, but his decision making was poor tonight. When he didn't have the ball, he offered little determination to win the ball back. He hit the post and was unfortunate not to score.
Joelinton – 3 – I've been a defender of his lately, but he was poor tonight. He didn't show the aggression or desire that we have seen in recent weeks. It is worth saying that he had absolutely nothing to work with.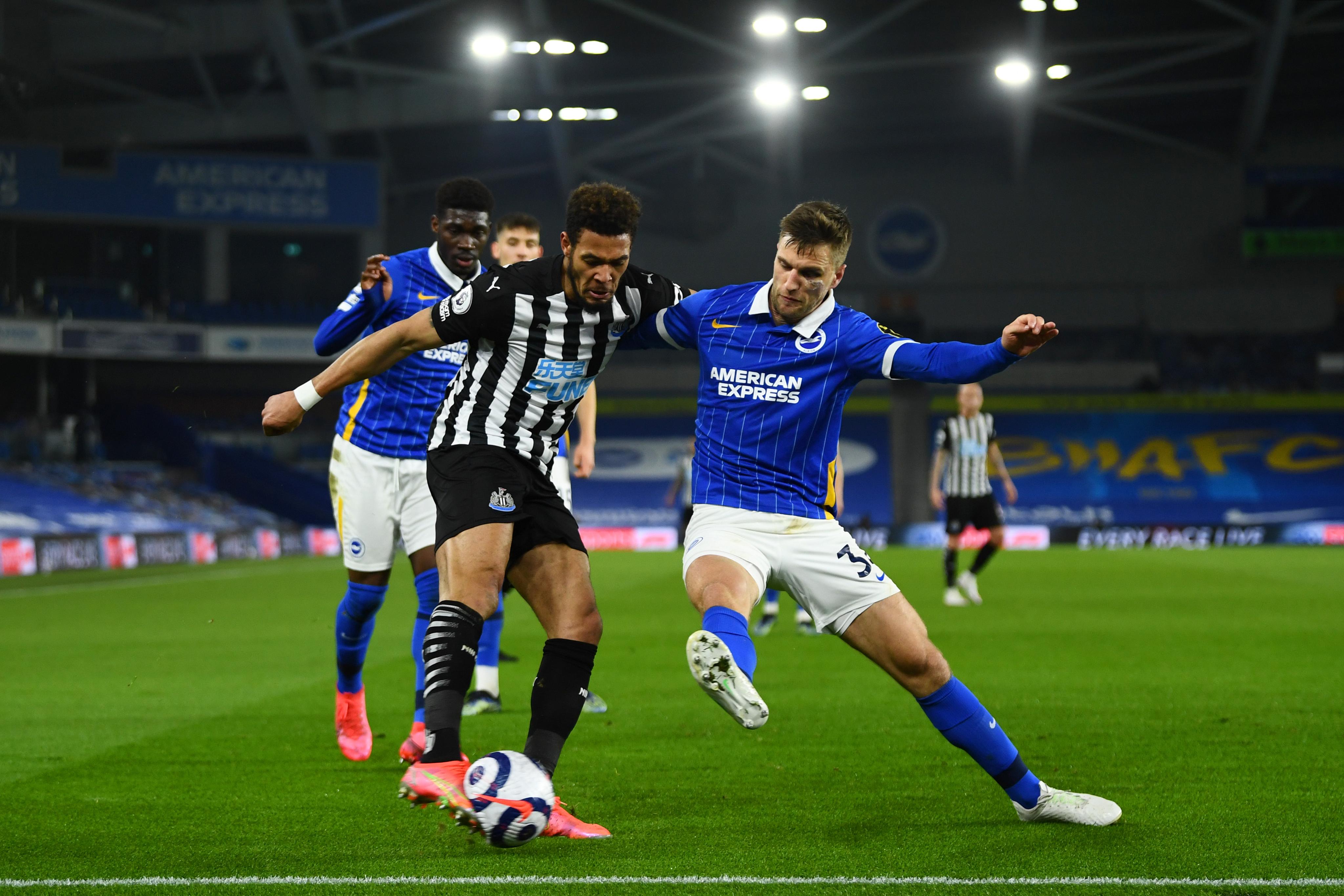 SUBS
Hendrick – 2 – I can't remember him doing anything on the pitch; aside from failing to execute the most basic of passes. He has been a passenger far too often and the decision to bring him on was the wrong one.
Murphy and Longstaff – N/A – They entered the game when it was already over. It's unfair to judge them on that performance.
Follow us on Twitter (@NUFCBlogcouk) and on Facebook HERE