Premier League manager of the month, Steve Bruce versus Premier League winner, Pep Guardiola was the big match tonight – and what a crazy 90 minutes of football it was!
We gave Man City a proper challenge tonight but sadly fell down to Man City's fantastic attacking display. We started the scoring fest with Emil Krafth's first goal for the club and refused to accept it when Man City romped back to 2-1.
After bringing the match back to 3-2 through an emphatic Joelinton penalty and yet another goal for that man Joe Willock, we quickly crumbled at the other end as Ferran Torres scored twice in three minutes to complete a hat-trick.
After that, we then looked too tired to make another dent in a City side we had been cutting open with ease on the counter. Overall, a very positive display from Newcastle, with this another step in the right direction after last Friday's 4-2 win at Leicester.
Disappointing to lose a game we scored three goals in, but it was great to see us have a go, play with freedom and commit bodies forward on the counter the rare occasion City let us have the ball!
Prior to the match, Man City pipped us by just one point in the form table but had actually lost one more than us in the last six matches.
This game was a free-hit for both teams as Manchester City had secured the Premier League title after Manchester United's loss to Liverpool and we were safe from relegation after Fulham decided to be much worse than us.
Team news wise, we were very much unchanged to the Leicester win with only Joelinton replacing the injured Callum Wilson.
The big news came in Man City's much changed side with Scott Carson making his first Premier League appearance since May 2011 when he played for West Brom against us!
With 15 minutes gone, the match seemed to be going as expected with Man City dominating possession and us sitting back. Definitely felt like the absence of Callum Wilson was harming our ability to break forward.
GOAL! I've always rated Emil Krafth! In the 25th minute, the stand-in centre-back headed in a fantastic goal from a Shelvey corner! 1-0 Newcastle!
Shelvey almost doubled the score in the 34th minute with a cracking free-kick that rattled the crossbar. Despite Manchester City's dominance, we were definitely posing a viable threat. If Callum Wilson were fit then I genuinely think he'd be thriving in the game.
Man City equalised in the 38th minute with Cancelo benefitting from a Murphy deflection to beat Dubravka to make it 1-1.
Man City doubled their lead in the 42nd minute with a great finish by Torres but questionable defending by us. A pity for us because arguably, despite their dominance, we'd been deserving of a draw – however we soon drew level.
GOALINTON!!!! Joelinton scored a cracking penalty for us in the dying minutes of the first half. VAR seemed desperate to find an offside before awarding the penalty, with lines being drawn for one of the most obvious onsides ever, but reason prevailed and Joelinton was allowed to take the penalty that he himself won after drawing Ake into a clumsy foul.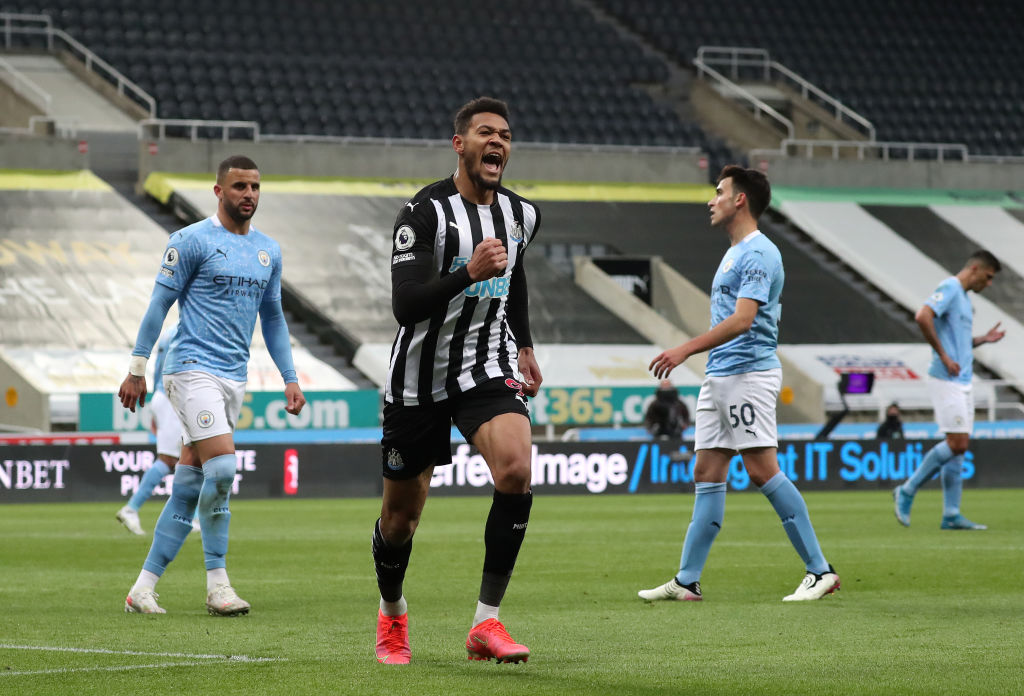 The first half was a strange one! I'd argue that we fully deserved to be going in with a point and the way were playing harkened back to the end of Rafa's reign where we made use of the ball when we could. Yes, Manchester City dominated possession but we consistently looked dangerous on the break.
Allan Saint-Maximin was a brilliant outlet for us in attack and the likes of Ake really seemed to struggle with his running and skill.
All in all, a really good first half and the sort of "expectations" that we have for our team. We just want to see them go out and have a go. If we had gone in losing 2-1 then I would still have been pleased with our performance.
Predictably, Man City started the second half by dominating the ball but we thankfully continued to press and attack when we could. Good to see a hint of consistency from our play.
WILLOCK! 3-2 to the Toon in the 62nd minute!!! He did fantastically well to win a penalty from Kyle Walker and the young midfielder insisted on taking the penalty. Scarily, the initial penalty was saved by Scott Carson but Willock quickly followed up and knocked the ball into the net. Sadly, the lead didn't last long…again.
3-3… Man City instantly go on the attack and Torres gets on the end of the ball and equalises for them.
Torres struck again in 65th minute to make it a hat-trick and Man City turn the match around again to take the match to 4-3. Really disappointing. Our general defending has let down our overall team play. An exciting match but the poor defending has really let us down.
The final few minutes of the game arrived and we were clearly knackered. We've given so much to this game but Man City's quality were hard to deny.
Full time and we unfortunately lose 4-3 but we can really hold our heads up high. To produce this level of quality in two consecutive games against top level opposition is really admirable and I hope that this is benchmark for next season.
This type of football is what we've been expecting all season and Bruce now has no excuses to not provide this level of football in future games.
Play like we have in our last two in our final two against Sheffield United and Fulham and we'll end the season with six more points!