An emotional day at St James' Park as a 10,000 crowd returned to see Newcastle United come away with a 1-0 win against Sheffield United.
It wasn't the goal-fest some hoped for or a particularly impressive performance, but it was most definitely 90 minutes of football that will live long in the memory – whether you watched inside the stadium, on your sofa at home or at a pub in the city centre.
The match-winner was that man Joe Willock, with the midfield goal-machine scoring yet AGAIN to set a new Premier League record and Allan Saint-Maximin running rings around an already relegated Blades side.
Our second half display was a poor one and there were a few injury concerns – ASM and Willock limped off and Dubravka was holding his hamstring – however that won't take away from a day that saw supporters make the headlines for the first time in 15 months.
The win takes us up to 42 points and sees us leapfrog the likes of Brighton and Burnley ahead of our final game of the season at Fulham this Saturday, giving us chance to beat last season's tally should we come away from Craven Cottage with another victory.
Bruce named an unchanged side, picking the 11 that pushed Man City all the way in last Friday's 4-3 defeat at St James' Park.
It was good to see Matty Longstaff back in the squad, but a real shame that Elliot Anderson didn't make it – suggesting he'd failed to recover from a recent hip injury.
The players came out and the atmosphere was electric. I couldn't get a ticket and was instead sat on my sofa watching on Sky Sports, but that didn't stop the hairs standing up on the back of my neck and my eyes just ever so slightly filling up.
Football has felt stale, lifeless and lacking in so many departments for well over a year now. It's nothing without fans and this was an overwhelming and indescribable reminder of how brilliant it felt to see supporters back where they belong.
The game kicked off and we looked lively in the opening few minutes, with Almiron full of running to force a corner and Saint-Maximin immediately getting fans off their seats with a mazy run down the left.
It didn't take long, however, for the Blades to get a foot hold in the game. McGoldrick found space in the box via some statuesque defending and dragged a shot just wide. An early scare and a chance the visitors' top scorer really should have put away.
Saint-Maximin laid on a half chance for Joelinton soon after, however the Brazilian's shot was blocked and the Blades reset. We flew out of the traps in the first 60 seconds, but we'd allowed Sheffield United to get too comfortable in the opening 20 minutes and had to up the tempo.
Thankfully, Willock took the bull by the horns a few moments later, pinching the ball off Norwood and driving at an exposed back three. There was an option out wide, but just as the Arsenal loanee was about to release the ball he was hauled down by a pink shirt. Norwood booked and a free-kick in a decent position.
The result set piece was hit straight at the wall by Murphy, however this was the start of a much improved five minutes.
After Almiron did brilliantly to keep the ball in, he combined with ASM to release Ritchie. The wing-back swung in an inviting cross and Shelvey rose highest. The Gallowgate were off their seats and expecting to see the net bulge, only for Ramsdale to pull off an outstanding save to keep the scores level!
Another corner came our way and this time it was Fernandez who got his head to it – but the Argentine's header was pretty tame and gathered easily. The crowd were up and we were smelling blood – enter Allan Saint-Maximin.
The Frenchman brought the ball down in his own half with a sublime touch, burst past three pink shirts like they weren't even there, latched onto his own pass quicker than Joelinton could and was cynically brought down by Egan. Another free kick in a dangerous area and another booking for the away side, however the resultant ball in was overhit by Ritchie and the chance was gone.
Joelinton went down off the ball and with that we went a little flat again. He got back up and played on after treatment, but soon signalled to the bench to suggest he was still struggling.
A real shame for our recently improved Brazilian who'd scored in each of his last three home starts against Spurs, West Ham and Man City – yet he had a huge chance to make it 1-0 before any change was made, heading over a superb ball first time ball in from Murphy.
Almiron then put ASM in behind seconds later. He looked offside, but picked out Willock with a brilliant ball across the box, only for Ramsdale to smother our loan star with another smart stop. The flat then went up and ASM was shown to be off, yet it wasn't long until he helped create another big chance for our midfield goal-machine with just minutes remaining of the first half.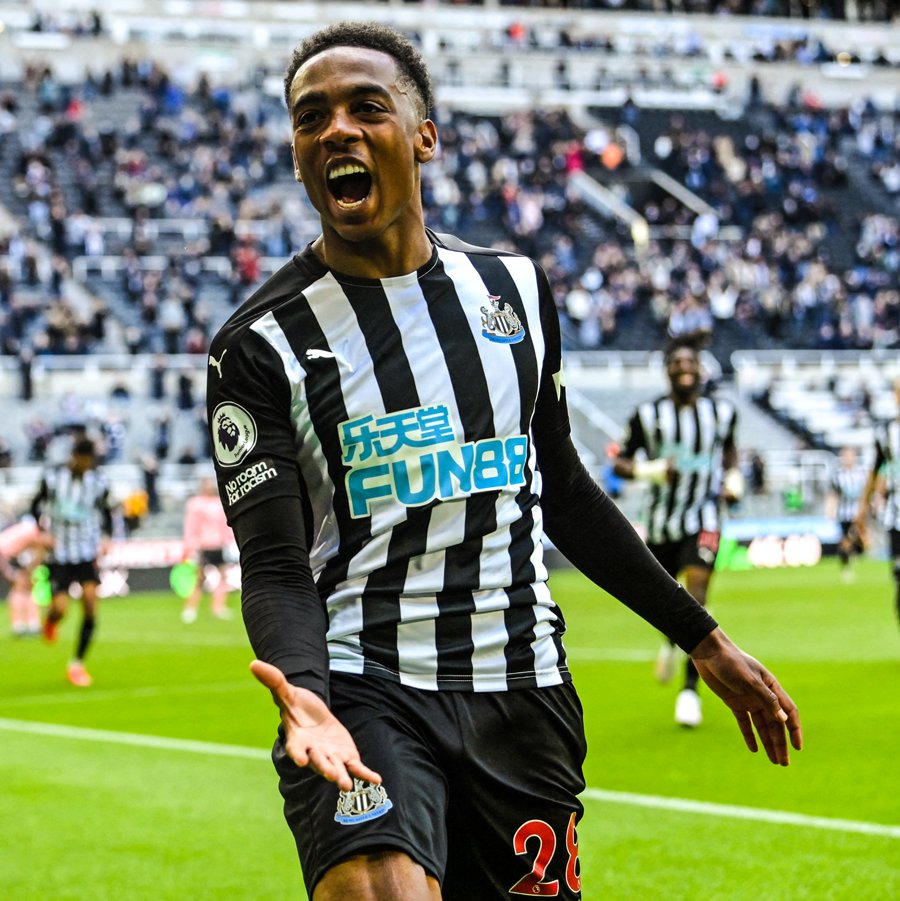 After resisting an easy ball back to Shelvey, our electric Frenchman picked out a superb reverse pass to Murphy, who'd timed his run well to get in down the right. Our winger turned wing-back still had plenty to do, but delivered a superb ball into the box. Who was there to head it home? THAT MAN JOE WILLOCK!
Another perfectly timed run into the box and another ice-cool finish – only this time it was able to be met with brilliant scenes at The Gallowgate – "JOE WILLOCK, WE WANT YOU TO STAY".
1-0 Newcastle and a goal that makes the 21-year-old star the youngest player in Premier League history to score in SIX consecutive games! The first to do it in the top flight since Jamie Vardy and a feat last achieved at Newcastle by former NUFC hitman Papiss Cisse.
Half-time came and there was one change made at the break by Steve Bruce, seeing Dwight Gayle come on for the injured Joelinton. Considering this was likely to be his last home game as a NUFC player, I thought we'd see Carroll come on for a St James' Park send off, but Bruce went for the man close to signing a new three-year deal instead.
Aside from the odd run by ASM that ultimately came to nothing or blistering burst of pace from Almiron, the opening 20 minutes of the second half was shaded by the visitors.
That said, we had one or two openings on the counter that could and should have put Sheffield United out of sight, with Saint-Maximin failing to get his head up in time for an almost certain Gayle tap-in.
Sadly, that was ASM's last major involvement, with the Frenchman falling awkwardly just shy of the 70-minute mark and signalling to the bench that he couldn't continue after treatment. The St James' Park crowd took a reluctant sigh of disappointment to see our star man forced off early and Sean Longstaff came on with 20 on the clock.
Our outlets in attack were diminishing, yet it wasn't long until our two remaining speed merchants combined on the counter. Joe Willock skipped past his man, drove at the Sheffield United defence and released Almiron down the left. The Paraguayan did well to take such a direct route to goal and ghost past several pink shirts, but he chose to cut the ball back rather than take the shot himself – a decision that turned out to be the wrong one as Longstaff and Gayle got in each other's way.
The Blades hadn't given up and were enjoying a decent spell of possession. We were sitting too deep, relying on fleeting counter attacks and almost got punished, with McGoldrick's superb strike from range beating Dubravka and cracking the cross bar.
Another injury scare then came our way 82 minutes in as Dubravka pulled up holding his hamstring. It surely wasn't worth the risk keeping him on – especially with the Euros coming up – but Bruce opted to take a limping Joe Willock off instead to give Andy Carroll one last send off before he's released this summer.
Willock did a lap of honour after being forced off at the other side of the pitch and was met, once again, with chants of 'WE WANT YOU STAY'. I sincerely hope this is not the last time we see him in a black and white shirt at St James' Park.
We survived a few awkward balls into the box and held on to secure a 1-0 win, with the final whistle met with that roar of relief from 10,00 Toon fans.
Forget our 2nd half approach and those injury concerns – this was a memorable afternoon where off-field emotions mattered most.
This was a magical taste of normal life and that indescribable buzz thousands of Geordies can create when inside St James' Park together
Next up, a final day trip to Craven Cottage this weekend!
Follow us on Twitter (@NUFCBlogcouk) and on Facebook HERE