Going into today's final day of the 2020/21 Premier League season – which sees all 20 clubs kick off at 4pm – we sit 15th in the table on 42 points.
Here, we look at the best and worse case finishes we could secure today – one being as high as 12th and Bruce matching Benitez's best points tally (45) and the other being just one above the drop zone in 17th.
Interestingly, Swiss Ramble report that each position in the Premier League is worth an extra £2.7m this year – meaning there's plenty to play for in terms of end-of-season payouts that could add to our limited summer transfer budget!
For example, a 12th placed finish – the best possible outcome today – could land us around £24m in merit payments, but defeat and results going against us elsewhere could see us take away just shy of £11m – a whopping difference of £13m to prove that there's still plenty to play for!
With all of the above in mind, here's the current Premier League table, all 10 final day fixtures and the best and worst case scenarios possible: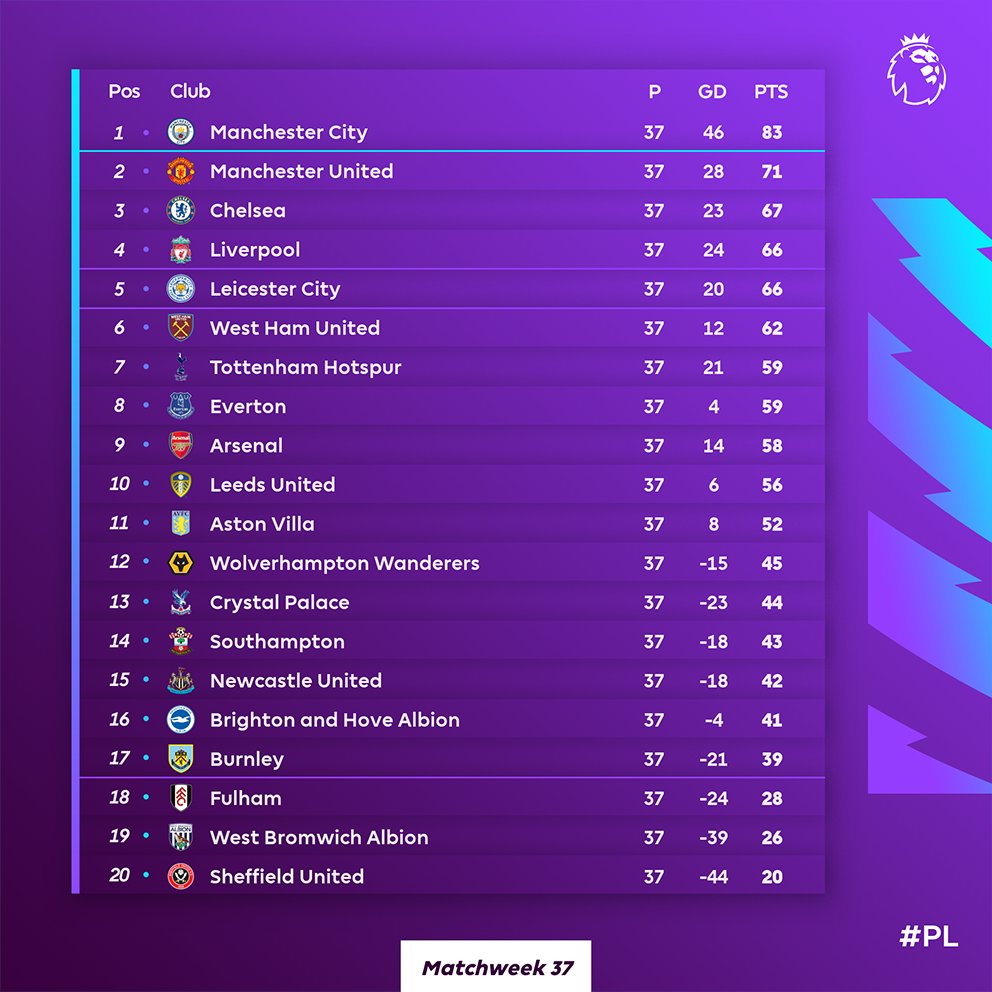 (18th – 28pts) Fulham vs Newcastle (15th – 42pts)
(20th – 20pts) Sheffield Utd vs Burnley (17th – 39pts)
(9th – 58pts) Arsenal vs Brighton (16th – 41pts)
(4th – 66pts) Liverpool vs Crystal Palace (13th – 44pts)
(6th – 62pts) West Ham vs Southampton (14th – 43pts)
(12th – 45pts) Wolves vs Man Utd (2nd – 71pts)
(10th – 56pts) Leeds vs West Brom (19th – 26pts)
(11th – 52pts) Aston Villa vs Chelsea (3rd – 67pts)
(5th – 66pts) Leicester vs Tottenham (7th – 59pts)
(1st – 83pts) Man City vs Everton (8th – 59pts)
Best case scenario: NUFC finish 12th on 45 points
Newcastle win at Fulham
Southampton lose or draw at West Ham
Crystal Palace lose or draw at Liverpool
Wolves lose against Man Utd
We'd be level with Wolves (currently 12th) on 45 point if all the above happened, however their goal difference is currently three better than ours (-15 vs -18), so we'd need to win by a few or hope they get well beaten for us to get 12th.
Worst case scenario: NUFC finish 17th on 42 points
Newcastle lose at Fulham
Burnley win at Sheffield United
Brighton avoid defeat at Arsenal (a draw would have them above us on GD if we lose at Fulham)
Burnley (17th) have a goal difference of -21 at present to our -18, so there'd have to be a three-goal swing in the wrong direction for them to finish above us if they won at Sheffield and we lost at Fulham.
Follow us on Twitter (@NUFCBlogcouk) and on Facebook HERE