To say it's been a frustrating and ultimately fruitless summer so far would be an understatement.
The season kicks off in three weeks time and we've not signed a soul, are no closer to bringing Willock back and have gone an sold arguably our most talented defender in Florian Lejeune….just when we're in the market for a left-sided centre-back.
The Frenchman wasn't in the 25-man squad last year so whilst his wages are off the books and a small fee recouped, it's not like we have a space in the squad to fill.
Carroll, however, was in the 25 so that's a space now he's been released. Atsu and Saivet have also gone the distance. They don't create an extra squad spot – neither made the cut last season – however they will surely create a bit more room on the wage bill.
But, what on earth is the state of play when it comes to incomings. I awoke on Friday morning to the news that we were closing in on the signing of Mario Lemina – a dynamic midfielder who would've given our one-paced midfield something different.
By the end of the day it transpired that he's actually off to Nice for £4.7m. Whether you thought he'd be a good signing or not it's immaterial as he's not coming.
We also know now that Kristoffer Ajer's not coming and has gone to Brentford for £13.5m. Funny that as he's another we were 'closing in on' a few months back. Clearly not!
Then to Connor Gallagher. Luke Edwards (The Telegraph) reported last week that he was a leading loan target alongside Joe Willock, but it's since emerged that Palace and Leeds are battling it out for his signature…
So, no Lemina, Ajer or Gallagher, but what's going on with Willock? The Emile Smith-Rowe contract and the signings that Arsenal have made so far suggest his path to first-team football may still be blocked, giving me some hope that we can eventually bring him back.
Still, that one's moving at a snail's pace and looks set to be another loan at best – which isn't ideal when we only have two domestic slots to use up and so little to spend.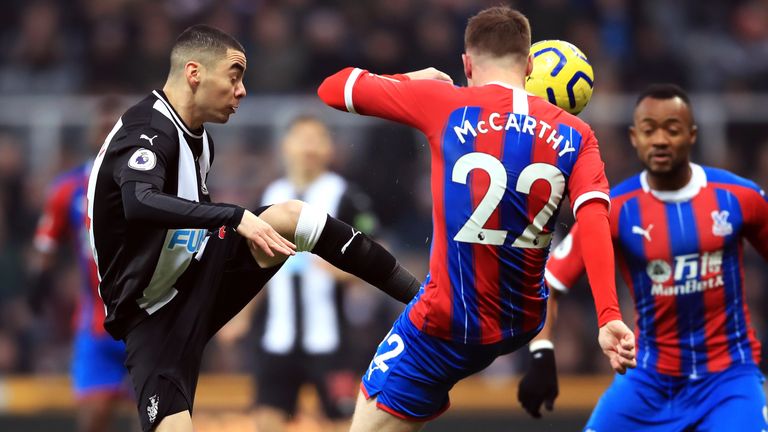 Elsewhere, James McCarthy has come along as the latest midfielder linked. Available on a free, average at best and with Premier League experience. That sound familiar? Yes, another potential Jeff Hendrick is on the radar. Deary, deary me. Let's be honest though, who would really want to come to Toon with our current regime in charge.
Indeed, next, we'll probably not even be able to get McCarthy for nowt! Who on earth are we going to get now we seem to be scraping the barrel with so little to spend and so little incentive for players to join.
I haven't even mentioned strikers, because The Mail reckon we're in for two midfielders and a centre-back. Are we really going to take a risk on Callum Wilson staying fit all season? No sane Premier League club would, but it looks like we will, leaving Gayle and Joelinton the men to step in if needed…
Then we have the Bobby Clark situation. The 16-year-old son of the legendary Lee is, supposedly, one of the highest touted youngsters in the country. He's currently ours but could well be Liverpool bound. What on earth are we doing if we can't persuade the son of a Toon legend to stay!
There is a contract on offer to Bobby and let's hope he takes it as surely in a couple of years' time, at the tender age of 18, the Club must be in a better position and both sides could make a better more informed decision. Mind you, knowing NUFC the "takeover" could still be dragging on by then!!
So here we are, two pre-season friendlies in and we are still looking for TWO midfielders, a CB and surely another forward. Exactly as we were when the window opened, yet weaker on paper now Willock and Carroll are gone.
At this rate, anyone coming in will not have a preseason with us and, as a result, may take a few precious weeks of the new season to get up to speed.
Sadly, it seems that we're doing things at the wrong time and with no direction. We just seem to never EVER learn.