Paul Merson has revealed how he was pleasantly surprised by Newcastle's performance after attending Sunday's game between ourselves and Chelsea.
He admits, "Newcastle are better than I thought", but immediately follows that with comments that make little sense in true Merson style.
According to the Sky pundit, Eddie Howe 'parked the bus' at Stamford Bridge. He thinks we did it 'very well', however the previous comment alone makes you wonder just what game he was watching when we consistently had three men waiting outside their box in a bid to set traps when they tried to play out from the back.
Our wing-backs were also joining the press at every opportunity, we were comfortably the better side in the first half – testing Mendy more than they bothered Dubravka – and ended the game with just one shot less than the hosts. We gave as good as we got and were competitive all over the pitch, not sitting deep as Merson suggests in hope of a 0-0 draw.
Here's what he said in his latest column for Sky Sports:
"I was at Stamford Bridge on Sunday and Newcastle are better than I thought.

"They parked the bus but they parked it in a way where they did it very well.

"Chelsea never looked like winning the game."
Here's a bit of proof that did not 'park the bus' at Chelsea, with the graphic below showing the average position of all 11 starters during Sunday's game: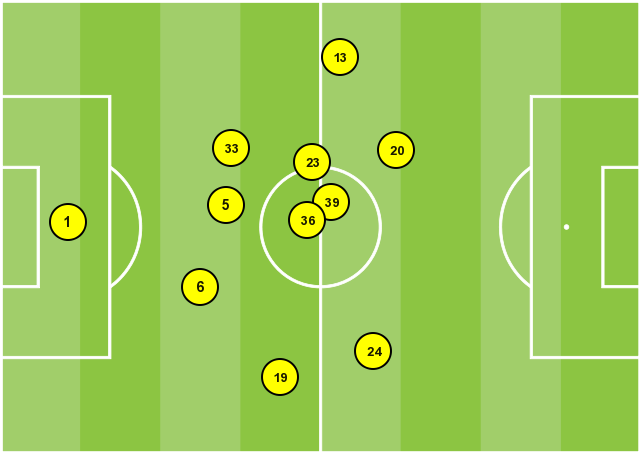 It was very much a 3-4-3 – as the graphic above displays – and not the negative 5-4-1 we've see in previous years.
Sunday's approach was aggressive and brave, highlighted by the fact our wing-backs were pushed up the pitch and told to get involved in the press, not hang back and hope others ahead of them would be able to go it alone on the counter attack.
Merson also looked ahead to Thursday's trip to Everton, believing this is a must win for the Toffees based on their remaining fixtures:
"Everton have got to go and win that game now – a draw is no good.

"They've had some injuries in key places

"They need Dominic Calvert-Lewin back firing. But they're sort of in that situation where it's Everton, never been relegated, so they go out and try to play entertaining, attacking football.

"I'm looking at Everton's fixtures and the way they're playing and I think they're in big trouble.

"I think they're the ones to go now. You've only got to look at their fixtures – they're atrocious. I just can't see how they stay up.

"They've got games in hand, but where do they get points? I think they've got to beat Newcastle."