Around this time last year, Sara (my wife) and I were over the moon to be returning to St. James' Park for the first time in what seemed like half a lifetime, because of Covid restrictions. 
Only 10,000 fans were allowed in the ground for the last home match of the season against already relegated Sheffield United. It felt like a huge privilege to be present to see Joe Willock score yet another goal, seeing off The Blades. It didn't feel real, somehow, after everything that people had been through in the previous 15 months.  Football didn't seem to be that important, but we know how vital it really is.
There were tears from a number of fans, understandably, when seeing faces of match day friends, most of whom we didn't keep in touch with outside of St. James' Park, not knowing if they were still alive. Then, as the teams came out & Local Hero drifted around the stadium, I bet there wasn't a dry eye in the place.
The match wasn't great. Bruce continued with 5 at the back against a doomed side, who looked most likely to score.  It was frustrating, but just on half time Saint-Maximin weaved around the edge of the box, played a great pass to Murphy, who chipped the ball in for Willock to head past Ramsdale, who had not long before denied Shelvey.  It was the best feeling to celebrate a goal at the ground, once again. The performance and result is always important, but just being there was key and it was a fantastic experience.
Back to how vital football really is, especially up here.  During lockdown and the following Covid restrictions people did various things to get through: making banana bread; exercise with a fella on zoom; work from home; set up podcasts etc., but for many the return of the football was the ultimate escape that we'd missed the most.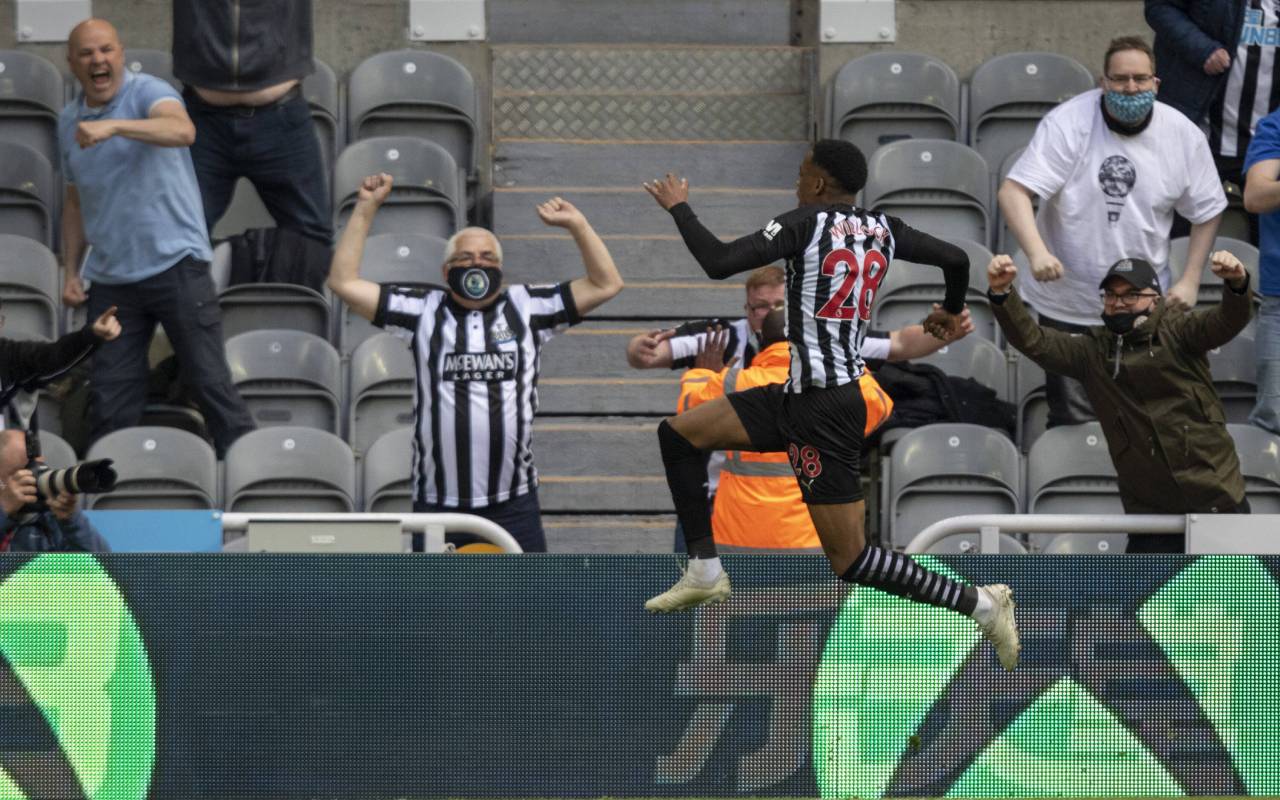 The problem was, Newcastle were bloomin' awful, managed by Bruce, owned by a businessman who didn't care and fans knowing that unless the much awaited takeover happened, with investment desperately needed, we were going to tread water at best.  The feeling that we couldn't do that for much longer, was all too palpable.  Joe Willock's goals, in the latter half of the bizarre 2020/21 Premier League season, would keep us up, for now!
A few months later, we were back again.  This time in a pre-season friendly v Norwich City, who had bounced back up from the Championship, again!  Sara & I started to collect for the NUFC Fans Foodbank on that day, having met Bill Corcoran & Steve Hastie a few months earlier & finding that it wasn't just about food donations & realising that we could help. Double the amount of people that were allowed into the Sheffield United game turned up. It was the first time we'd been amongst a real crowd of people, unrestricted, since February 2020.  Seeing so many people wearing black & white, arrive in the sun to watch the lads was exhilarating!  Smiling faces I'd recently come to know only on Twitter, since the launch of We Are The Geordies movie in December 2020, suddenly appeared in front of me, with outstretched hands to shake, as I sat outside The Strawberry Pub with my collection bucket. 
I would get Covid from that day, but it wasn't too bad second time around and I'm still here to tell the tale!  Newcastle played quite well, but the opposition weren't great and we knew it!
A week later the season started with defeat at home to West Ham and despite a great start, with a goal by Callum Wilson, lack of fitness showed in the 2nd half and we lost 2-4.  50,673 fans were there to watch and things felt like they were getting back to normal.  The problem was, not winning became normality! 
Another pre-season with almost zero investment – only Joe Willock making his loan move permanent and out of the League Cup, on penalties to a very poor Burnley side, by the end of August with 1 point from a possible 9, it was all looking bleak.  As Sara & I continued to collect outside the Gallowgate, before each home game, that became the highlight of each match day and there were times when it felt like a real chore to go in and watch the football served up.  It very soon became desperate and we were no longer treading water.  We were drowning and going under like a stone!
However, I'm sat reflecting on the last year, as I look forward to the last home game of the season against Arsenal.  From that match v Sheffield United to the amazing events of October, as the long awaited takeover finally happened; seeing Amanda Staveley, Mehrdad Ghodoussi, Jamie Reuben and chairman Yasir Al-Rumayyan at St. James' Park; Jamie Reuben pledging to match all donations made by fans to NUFC Fans Foodbank; the sprucing up of the stadium, the pigeon being finally laid to rest & Sports Direct signs finally taken down; Eddie Howe replacing Bruce; finally winning a match against Burnley; being brought back down to earth by Cambridge United; the complete transformation of Joelinton; the unreal sight of Kieran Trippier, Chris Wood, Dan Burn, Bruno Guimarães and Matt Targett, the latter on loan, all arriving in January; our first away win amongst the crazy & scary scenes at Leeds; 9 games unbeaten in the league; 6 wins on the belt at home; and safety from relegation!  It all feels totally unreal.  
It's great to see fans debating on who we should sign for the club and who should stay, to move us forward.  This could only be done on Football Manager in recent years, but now it's real. 
I'm not going to speculate on who we should bring in, what position we should be aiming for, or anything like that.  I'm simply going to sit back, enjoy the rest from such an emotional rollercoaster of a year, look forward to and enjoying the sight of new players, whomever they may be, as they stand arms aloft in the black & white and await the next season's fixture list, not worrying about who we're playing at the end of the season, with the looming threat of relegation inevitably hanging over us like the Sword of Damocles, but looking forward to each and every game and whatever may happen. 
It's going to be glorious and we, the fans, the players and the owners, deserve it!
It Doesn't Really Matter…But It Does!
Davy Craig