"You can talk about tactics as much as you like, it's all about players".
Incase you haven't seen it already, this is what Steve Bruce told the press this morning when asked about our struggles this season.
Essentially, he's playing down the importance of his tactics, formations, team selections and instructions to his players and instead insists that it's all on them.
Whether he realises it or not, this is him throwing his squad under the bus and deflecting any responsibility away from himself when it comes to the grim situation we find ourselves in.
Yet, in reality, if it was solely down to the quality of player at the club we'd be closer to the top 10 than we would the bottom three, with all this talk of his squad "not being good enough" for anything other than a relegation battle being the biggest myth on Tyneside for me.
After all, we have arguably the best striker in the bottom half, an exciting attacking trio of Saint-Maximin, Almiron and Fraser, a top goalkeeper, a host of solid centre-backs and a left-back Liverpool wanted before he got Bruced.
There's plenty limitations to this side, but for Bruce to suggest this season is on them more than his 'tactics' is laughable when this is a man who fielded a 5-4-1 formation featuring four centre-backs and a midfielder out wide against a previously winless Sheffield United!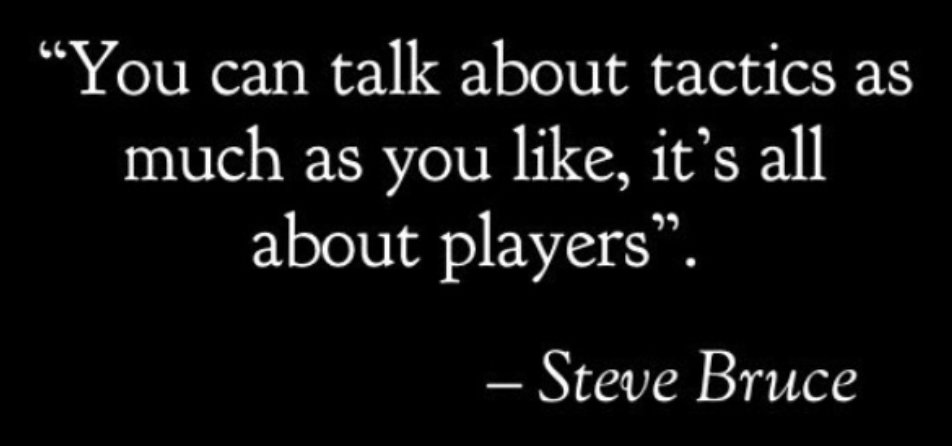 Also, it's become quite clear that any genuine identity and tactics the players have bought into have only come about since Graeme Jones arrived on the scene – something that's coincided with improved performances and deserved wins (which have been VERY rare under Bruce) against Everton and Southampton.
It doesn't really need explaining as to why Bruce's comment is painfully dated and reflective of the era he still operates in, but if it was players > tactics then Sheffield United would've been relegated last season – not finished 9th – Leicester would've never won the title in 2016 and Burnley could have never stayed up for five years. Leeds are another example – plenty 'Championship' players, yet a manager, system and style that has them pushing for a top 10 finish on their first season back.
This is not a witch-hunt. This is a manager who regularly gets called a "nice guy", yet in truth has no issue throwing his players under the bus 24 hours before our biggest game of the season.
Saying that, if it was all about the players and his 'tactics' aren't all that important, he could always walk away and leave them to it…
Follow us on Twitter (@NUFCBlogcouk) and on Facebook HERE