I'd rather not wade back into this debate, but the weekend's criticism of Joelinton was difficult to ignore.
The Brazilian missed a big chance late on when the scores were level at 1-1. It was great work from Jacob Murphy to create the chance, but a heroic goal-line clearance prevented the £40 million man from grabbing what would likely have been the winner.
There has been a lot of discussion on social media about the chance. Some consider Joelinton to be unlucky, as his strike beat Rui Patricio and it was headed for the back of the net. But many believe that it was a sitter and the Brazilian should have struck his shot better to give the covering defender no chance of blocking it. It was a big chance and one that we would hope to have taken, however it is difficult to put too much blame on Joelinton.
To start with, there was a covering defender in front of him, which prevented a near post finish (see photo below). Rui Patricio was advanced and cut down the angle. Joelinton managed to beat the goalkeeper, but Romain Saiss made an incredible albeit fortunate block. To get back onto the line, the defender had to face away from the action and sprint to cover his goalkeeper. At the time of the strike, Joelinton wouldn't have expected the defender to get back in time.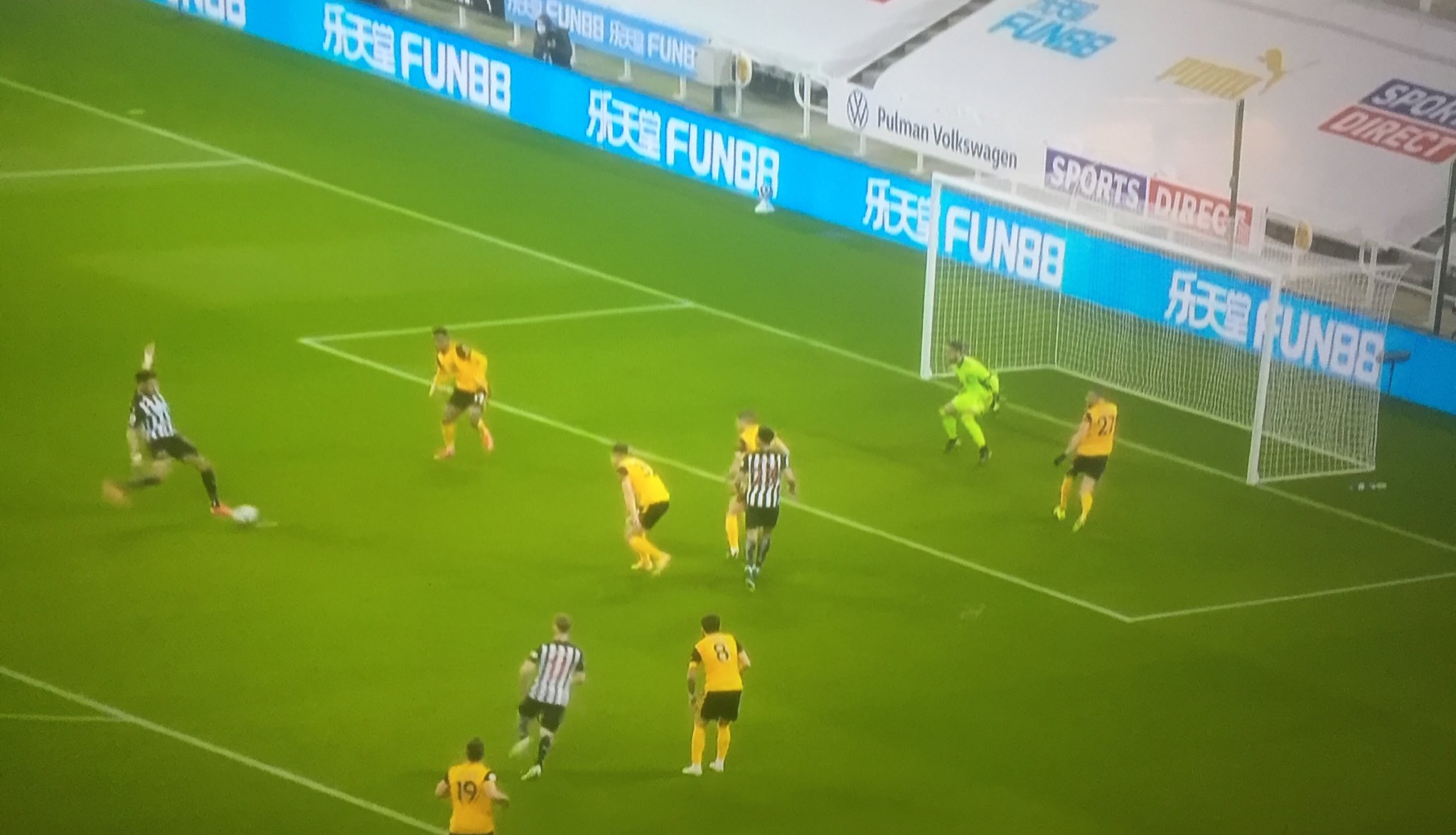 Even if he did take Saiss into account, it would have been difficult to predict where he would end up. If you were to be picky, Joelinton could have hit his shot along the ground, as this would have been more difficult for the defender to stop, but it may have brought Patricio back into the game.
Infogol gave the chance a rating of 0.37 xG. This means that it would be expected that this chance would be taken 37% of the time. It is hardly a sitter as some are describing, but it is disappointing that he didn't manage to find the back of the net. If he had missed the target or hit his shot straight at Patricio, the criticism may be warranted. As it took an incredibly lucky piece of defending on the line to keep it out, Joelinton should be spared on this occasion.
Aside from his chance, Joelinton delivered a strong performance on Saturday. It wasn't world class, but there were signs that he could contribute to the team in a positive fashion. During the match, he had three shots on target, made two key passes and completed four tackles. He ranked first, second and first for these stats in our team.
Joelinton was hard working and he showed a willingness to take up more positive positions to try to get on the scoresheet. The former has always been true, but the latter has been lacking for the majority of his Newcastle career. If he can continue to take up the positions that he did on Saturday, he will be a threat.
I am not trying to say Joelinton is a great player. He is far from worth the £40 million that he paid. Nobody can argue that this was a good signing for the club. However, the money has gone and the deal was done. We can't change that now.
For the time being, he is a Newcastle player and he does have something to offer. Fans need to seperate the price tag from the player and give him a fair chance to impress over the rest of the season, without criticising every small thing he does on the pitch. 
The injuries suffered by Callum Wilson, Allan Saint-Maximin and Miguel Almiron mean that we have been left with few attacking options. Joelinton showed that he can offer a threat against Wolves and he will be required to play a part over the coming weeks.
Joelinton will never be considered a success, but he can still have a part to play in a positive finish to the season. If he can play like he did against Wolves and get three or four goals during the run-in, maybe he will start to be looked at more fondly by supporters.
Stats taken infogol and whoscored