There's been another interesting episode of the never-ending Saudi takeover saga today – as Jamie Reuben has officially left his role at QPR.
Reuben has served as a director at the London club since 2018, but a recent Companies House update has confirmed that he has officially left his post.
Interestingly, it was widely reported over the summer that Reuben was going to be involved at NUFC as a director and on the board in the event of a Staveley-led takeover – so this update has caused serious intrigue amongst fans on social media.
The question on everyone's lips is – Why has he left QPR if the NUFC takeover is dead? We may be clutching at straws, but this would've certainly been a telling move just a few months ago.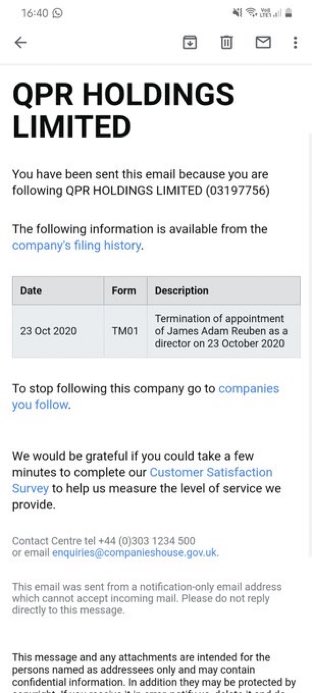 It sounds like they're doing some digging as we speak, but The Chronicle have already revealed that "those close to him" have been left "surprised" by his sudden resignation today.
Obviously we can't get too carried away, BUT it's imperative that it's at the very least chased up and we find an answer as to why he's left QPR.
It could well be nothing to get excited over, but with the – albeit slightly muffled – takeover talks still bubbling away in the background, this could mean that Reuben and his brother are on their way to NUFC.
Fingers crossed – although I now say that with in hope, not expectation!
Follow us on Twitter (@NUFCBlogcouk) and on Facebook HERE