A new pressure group is inviting Newcastle United fans to protest against the Premier League at Parliament square next week.
The Toon Army's patience is wearing thin having been given the cold shoulder by the top flight for nearly 18 months, with news breaking yesterday that the anti-competitive case surrounding the stalled Saudi takeover has been delayed yet again so that the Premier League can gather more evidence.
Mike Ashley and Amanda Staveley have both publicly backed calls for arbitration proceedings to be made public, as the takeover saga finally reaches its endgame this month.
The Premier League are holding firm on their "no comment" stance – angering Newcastle fans – which has led a new group to take matters into their own hands.
'NUFC Transparency Protest', using the Twitter handle @ProtestNUFC, are calling on Toon fans to rally at Parliament Square on July 16 to vent their frustrations at the Premier League.
This comes after an official club statement by NUFC asked supporters to mount pressure on politicians to help drag the Saudi-led takeover across the line.
Speaking to NUFC Blog, Holly Blades – a co-founder of the pressure group – had this to say, revealing how fans can get involved:
"The NUFC Transparency Protest group hopes that holding a protest outside of Parliament will attract media attention, gain some recognition from influential figures and put pressure on the Premier League so that our club's arbitration is made public.

"Newcastle fans have been kept in the dark for the entirety of this lengthy 18 month process and we demand answers as we deserve to know what's happening in regards to the future of our football club.

"For the entirety of Mike Ashley's reign our fanbase has been divisive. However, the one goal that we all have had in common is to get a new owner.

"The proposed deal is the best chance we've ever had to achieve our goal. It's now or never. There is strength in numbers and we must all unite for this protest.

"We ask that all Magpies fans put their differences aside for this occasion and join us to have a successful future for our football club."
Fans will pay £30 for a return ticket from St James' Park to London via coach at 06:30 on Friday 16 July.
The protest will take place at 13:00 at Parliament Square, with supporters from across the country being encouraged to head down to Parliament Square as well.
Every purchase instantly books your spot on the coach; sign up here to show your support.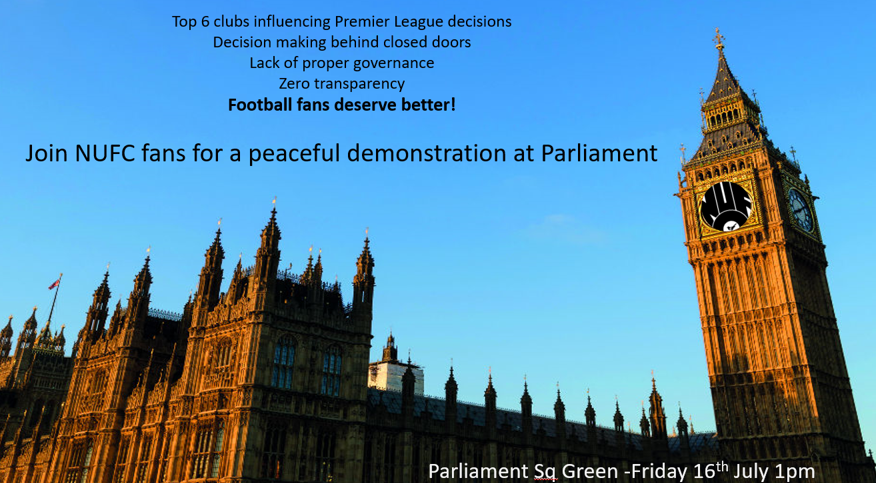 Follow us on Twitter (@NUFCBlogcouk) and on Facebook HERE