Amanda Staveley has ripped into the Premier League for its lack of clarification with supporters, echoing Mike Ashley's calls for the arbitration case to be held in public.
In a leaked letter obtained by Sky News to Tracey Crouch – the government's leader of a review into how football operates – Staveley also confirms that legal proceedings are set to begin 'this month'.
Interestingly, Sky News also report that Jamie Reuben is supportive of Staveley's letter, showing the buying and selling side are all joining forces in their campaign against the Premier League.
Staveley last spoke to fans directly in May after the European Super League debacle, where she said very little about NUFC, citing "non-disclosure agreements".
She appears to have U-turned on that stance, with a letter that shows solidarity with Mike Ashley's daring invitation of a statement released in midweek.
Here's the letter in full sent to Tracey Crouch by Amanda Staveley: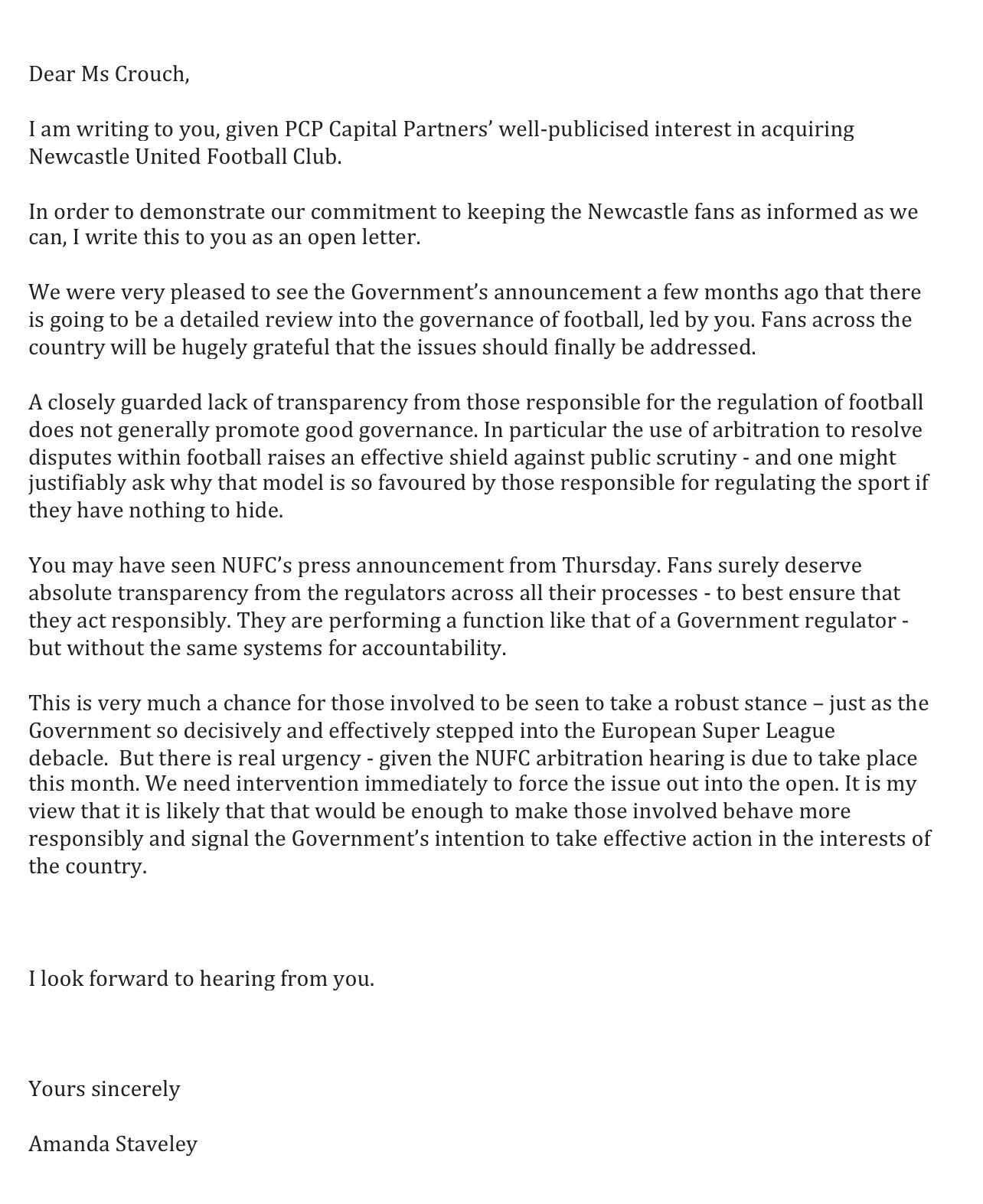 The contempt that the Premier League has shown Newcastle United as a whole is alarming considering we are one of it's 20 shareholders.
However, is releasing statements and piling pressure on ministers just shouting out loud in an empty room? It is certainly a good PR move to get the fans on side, but how would it actually give the buying side's a bette chance of winning the case?
Fans deserve to know what is going on, but it would be dumb to suggest that Ashley cares what we think or how we feel given the way he has treated us himself over the last 14 years.
This whole situation has become incredibly tiresome. Let's hope July really is the endgame!
Follow us on Twitter (@NUFCBlogcouk) and on Facebook HERE